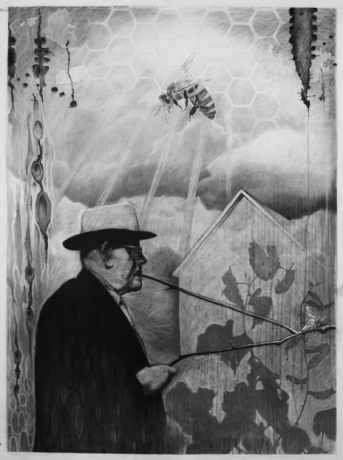 Exhibitions
TIMOTHY MASSEY & GARY MONROE: MEANDERING MYTHOLOGIES
Timothy Massey
Gary Monroe
Meandering Mythologies is a two-person exhibition featuring the work of Timothy Massey and Gary Monroe.
Timothy Massey is the associate professor of art and chair of the Art Department at SUNY Brockport. He also serves as the director for the Tower Fine Art Gallery at SUNY Brockport. He studied printmaking and drawing at the University of Tennessee and Ohio State University.
Gary Monroe is an artist from Knoxville, Tennessee who has exhibited nationally since the 1980's. Most recently Monroe's work has been featured in one-person exhibitions at the Estel Gallery, Nashville, TN, in 2011; the Clayton Center for the Arts at Maryville College in 2011; the Leu Art Gallery at Belmont University, Nashville, TN in 2009; and the Cue Art Foundation, New York, NY, in 2006. Notable group exhibitions include "Art of the South 2015" curated by Wayne White at Memphis College of Art, 2015; "The 7 Borders" at Kentucky Museum of Art and Craft, 2013; The Diane and Sandy Besser Collection at The deYoung Museum, San Francisco, CA , 2007/08; Knoxville and Vicinity: Dialogues at UTK Ewing Gallery, Knoxville, TN , 2007; Thresholds: Expressions of Art & Spiritual Life curated by Eleanor Heartney. Multiple venues, 2003-06.