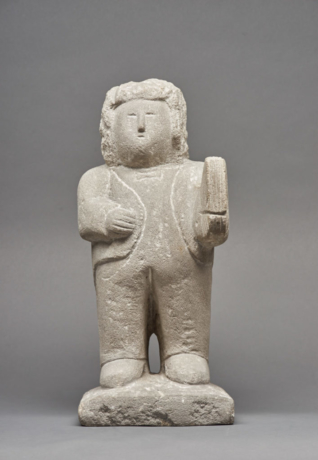 Exhibitions
THE SCULPTURE OF WILLIAM EDMONDSON: TOMBSTONES, GARDEN ORNAMENTS AND STONEWORK
William Edmondson
The McClung Museum of Natural History and Culture is proud to announce the special exhibition, The Sculpture of William Edmondson: Tombstones, Garden Ornaments and Stonework, in partnership with Cheekwood Estate & Gardens. The exhibition is sponsored by the University of Tennessee Division of Diversity and Engagement and will run from January 13 to May 14, 2023.
The exhibition reexamines and recontextualizes the life and work of African American artist William Edmondson (1874–1951). Edmondson is the most significant sculptor to emerge from Tennessee during the 1930s and 40s and remains one of the leading American artists of the twentieth century.
This is the first large-scale museum exhibition of the artist's career in over twenty years. During Edmondson's life, he was well known for his yard art, including whimsical birdbaths, fanciful "critters," sculptures of everyday people, and grave markers he carved for African American families.
https://mcclungmuseum.utk.edu/...
McClung Museum of Natural History and Culture, 1327 Circle Park Dr on the UT campus, Knoxville, TN 37996. Information: 865-974-2144. Hours: Tuesday through Saturday 9 a.m.–5 p.m. and Sunday 12–4 p.m.