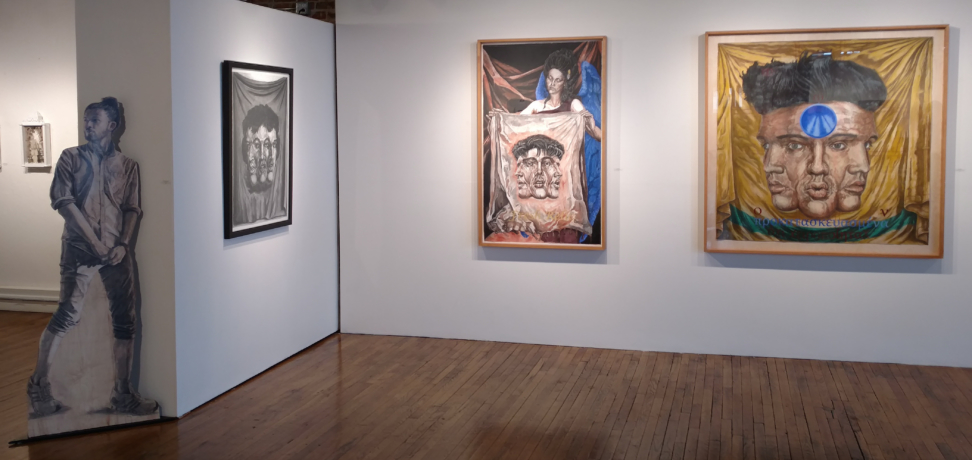 Exhibitions
TABLEAU VIVANT
Gary Monroe, Denise Stewart-Sanabria
AS A RESULT OF CLOSURES DUE TO COVID-19, PLEASE FOLLOW GALLERY WEBSITES AND SOCIAL MEDIA PLATFORMS FOR SCHEDULING UPDATES AND VIRTUAL EXHIBITION CONTENT.

---
Gary Monroe, an artist that resides in Knoxville, TN has been exhibiting extensively though out the US since the early 1980s. Predominately a representational artist he often includes non-representational elements in the work. The subject matter tends to be subjects from his native state of Tennessee such as Appalachian serpent handlers, Moon-shiners and of course Elvis Presley. Monroe's work is held in numerous private and museum collections. He was most currently exhibited in Appalachia Now! An Interdisciplinary Survey of Contemporary Art in Southern Appalachia at the newly renovated Asheville Art Museum. In Monroe's joint exhibit with Denise Stewart-Sanabria, Tableau Vivant; he will provide work from three series, The Serpent Handler Group, The Velvis Group and Comedy County Cocke. For more information, visit www.garymonroe.org.

---
Denise Stewart-Sanabria was born in Massachusetts and received her BFA in Painting from the University of Massachusetts/Amherst. She has lived in Knoxville, TN since 1986.
Sanabria paints both hyper-realist "portraits" of everything from produce to subversive jelly donuts. The anthropomorphic narratives often are reflections on human behavior. She is also known for her life size charcoal portrait drawings on plywood, which are cut out, mounted on wood bases, and staged in conceptual installations. She is a recipient of the 2019 Tennessee Arts Commission Individual Artist Grant for her work on wood.
Recent group and solo exhibits include: "Drawing Discourse", S. Tucker Cooke Gallery, University of North Carolina, "Virtual Reality" John P. Weatherhead Gallery, University of Saint Francis, Fort Wayne, IN, "Feast Your Eyes: Celebrating the Food of the South", Franklin G. Burroughs-Simeon B. Chapin Art Museum, Myrtle Beach, SC, the "36th Bradley International Print and Drawing Exhibition", Bradley University, Peoria, Ill, "28th National Drawing & Print Exhibition", Gormley Gallery, Notre Dame of Maryland University, Baltimore, MD, Nashville, TN, and "Quantum Continuum" Rebecca Randall Bryan Gallery, Coastal Carolina University, Conway, SC, "Encounters", at the Huntsville Museum of Art in Huntsville Alabama, Off Menu: Contemporary Art About Food: Bedford Gallery at the Lesher Center for Contemporary Arts, Walnut Creek, CA, and "Coined in the South" at the Mint Museum in Charlotte, NC.
Her work is included in various museums, private, and corporate collections including: The Tennessee State Museum, The Evansville Museum of Art in Indiana, The Knoxville Museum of Art, Huntsville Museum of Art, Notre Dame of Maryland University, Firstbank TN, Pinnacle Banks, Omni and Opryland Hotels, Scripps Networks, Knoxville Botanical Gardens, Jewelry Television, TriStar Energy, the Aslan Foundation, and the corporate offices of McGhee Tyson Airport.
She is represented by The Arts Company in Nashville, TN, Mitchell Hill in Charleston, SC, And District Arts in Fredrick, MD. For more information, visit www.stewart-sanabria.com or follow her on Instagram @denisestewartsanabria_.