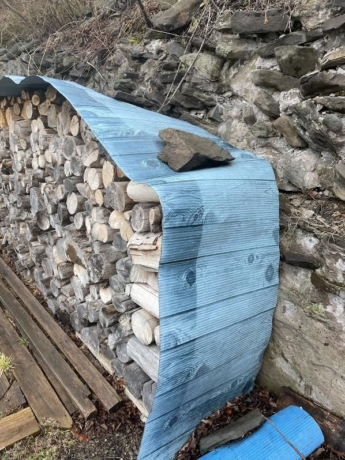 Exhibitions
SUZANNA ZAK: COMING HOME TO THE ICE AGE
Suzanna Zak
Crossing paths, a vague description of the trailhead: "after the bend, 30 seconds or so, it'll be on the left…" Mist hugged the mountain. At the top, the wind pushed and pulled it. A harbor appeared, a small island. A road, a house, then grey again, all over.
I once heard that a window screen lets only half the sunshine through. Colored glass does something too - a picture pushed away, then pulled into view. You left to find lonely boulders, older than who knows. A glacier recedes slowly, but sure as hell, won't freeze over.
On the other side of the Avalanche, around the clock's corner, are flowers with elastic knowledge. One that expands and contracts, as lungs do, over hours, centuries, otherwise. On this side, the other one, are stories told without words. Told through wind, through winters, through winding paths. Stories of toothy beings, among others that have since faded into a geography of absence.
To walk this side is to have a talk with time; is to enter a conversation where you are forced to listen up and down; is to accept the rise and fall of your lungs as a miracle with limits - with strings attached to the tents we pitch in the clouds.
✷✷✷
Coming Home to the Ice Age features a new body of sculpture and photography by Suzanna Zak inspired by her participation in a July 2021 research excursion studying the effects of climate change in the Selkirk Range, British Columbia. Initiated by researcher Astra Lincoln for the University of Victoria's Mountain Legacy Project, the trip's purpose was twofold—to document the recession of the Avalanche glacier, and gain insight into how post-glacial ecologies are shaped by this kind of geomorphological activity. These works extend from Suzanna's scientific 'transect' and personal photographs taken on and around the Avalanche's glacial forefield—that is, the new terrain exposed after glacial melt, unearthing the uncanny potential for a 'new' ecosystem in the wake of a glacier that had persisted for millenia. A combination of empirical evidence and intimate moments in the mountains, these images offer us a partial access to this geological wonder and the timescale it represents.
We crossed paths with Suzanna on Salt Spring Island one week before her departure.
-Garrett Lockhart & Danica Pinteric
✷✷✷

In conjunction with the exhibition Laurence Faber of POTCHKE (Knoxville, TN) and Lola Borovyk of Old World Levain Bakery (Asheville, NC) will offer food on a donation basis to help aid Ukraine. Donations go to Spilka, a New York City based collective providing people in Ukraine with lifesaving resources and critical supplies in the face of the ongoing Russian invasion and war.