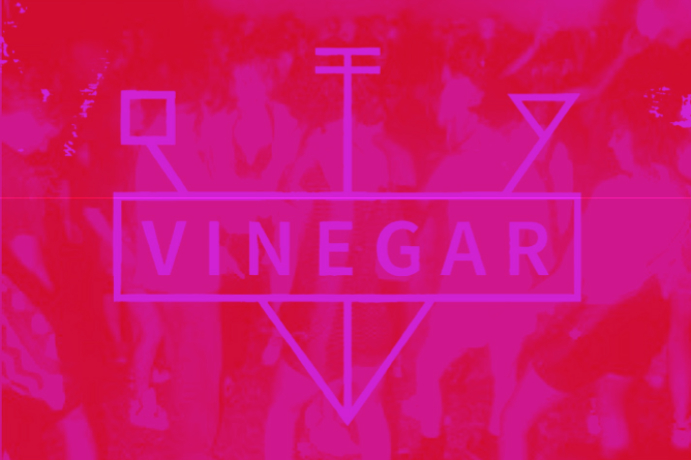 Exhibitions
SURROUND BY VINEGAR
The pulsing repetitive beat, sweat soaking your carefully selected outfit, the hours that pass without much thought while you repeat the same movements over and over, the exhaustion disappearing when you hear that song that makes you get on the dance floor and keep going because it is just too good to miss. Vinegar wants to go to a place where the ego falls away, where the body reconnects with the mind and the boundaries between us dissolve. Taking inspiration from 1990s midwest rave culture, Vinegar invites you to melt into your surroundings. Let's dance.
VINEGAR champions artists. VINEGAR is a non-profit organization run for artists by artists in Birmingham, Alabama. Upcoming projects include the launch of Airbnb X Vinegar, an experimental exhibition venue (opening November 7, 2019) and VINEGAR's first official headquarters, a permanent exhibition space opening winter 2019-2020.
ANN TRONDSON's artistic practice is based in live performance, video, sound, and drawing. Recent exhibitions of her work have been held at Louis B. James Gallery, New York City (2014); College for Creative Studies, Detroit, MI (2013), and MAK Center of Art and Architecture, Los Angeles (2012). Her films have been screened at Salon 94 Gallery, New York (2014) and the Palm Springs Art Museum (2010). In 2014, she participated in the Terra Summer Residency in Giverny, France. Previous residences include The Guesthaus Residency, Los Angeles (2012), The Vermont Studio Center (2009), and The Banff Centre (2009). She received her MFA from the University of Southern California in 2008 and now lives and works in Birmingham, Alabama.
MELISSA YES makes objects, installations, video art, and performances. She uses low-brow materials and DIY digital techniques to create moments of physical, cultural, and existential tension. Using destruction as a creative process and vice-versa, Yes tinkers with the production and consumption of American bodies, landscapes, and cultural narratives.
Melissa Yes earned an MFA with an emphasis in sculpture (2017) at the Ohio State University, as well as a BS in biology (2006) and a BFA in fine art (2012) from the University of Alabama at Birmingham. Yes worked as a studio assistant for artist Ann Hamilton from 2015-17. Yes's twelve-year career in art, education, and the nonprofit sector has led her back to Birmingham, Alabama, where she is working as an artist, designer, educator, and co-director of VINEGAR.
FENELLA KENNEDY is an Assistant Professor of Dance in the Department of Theatre and Dance at Alabama University. Their work deals with the intersection of language, performance, and identity, using large-scale immersive environments to explore topics of gender, social media, and the strange and reptile pre(sent)-history of birds and ballerinas. Kennedy earned their PhD in Dance Studies from the Ohio State University, and maintains the public research blog Headtail Connection. In their fleeting spare time Kennedy teaches and organizes social partner dance events across the United States.
Fenella Kennedy is joined for this project by dancers from the University of Alabama: Marcus Bivins, Alexis Odom, Danielle Pope, Abi Shepherd and Jamie Stannard
For media and press inquiries: cforcourtside@gmail.com Follow the gallery on Instagram: @cforcourtside