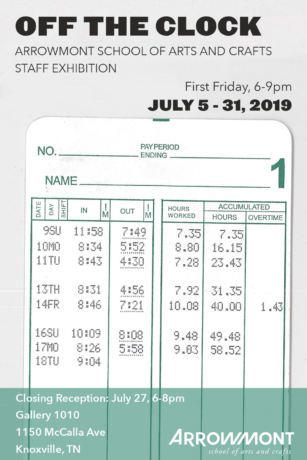 Exhibitions
OFF THE CLOCK
Heather Ashworth, Vickie Bradshaw, Rebecca Buglio, Nick DeFord, Kelsey Dillow, Michael France, Bill Griffith, Vanessa Hartman, Gracie Herbert, Kelly Hider, Anne May, Bill May, Jim Scarsella, Ernie Schultz, Deborah Sosower, Logan Szymanowski, Katie Wagner
When they aren't busy creating the "craft school experience" for students and
instructors across the globe, many of Arrowmont's staff members are artists and makers themselves. A passion for the arts unites the people who work at the School, and a majority of Arrowmont's staff are renowned for their creative practice outside of the office.
Off the Clock is an exhibition that aims to highlight the diverse and creative talent found within the staff at Arrowmont School of Arts and Crafts. Arrowmont School of Arts and Crafts is a national art and craft education center located just one mile from the entrance of the Great Smoky Mountains National Park. The School offers weekend, one and two-week workshops for the beginner to advanced artist, taught by national and international practicing studio artists and university faculty. Workshops and classes are offered in ceramics, fiber, metals/jewelry, painting, drawing, photography, warm glass, woodturning, woodworking, mixed media, books, paper and more.