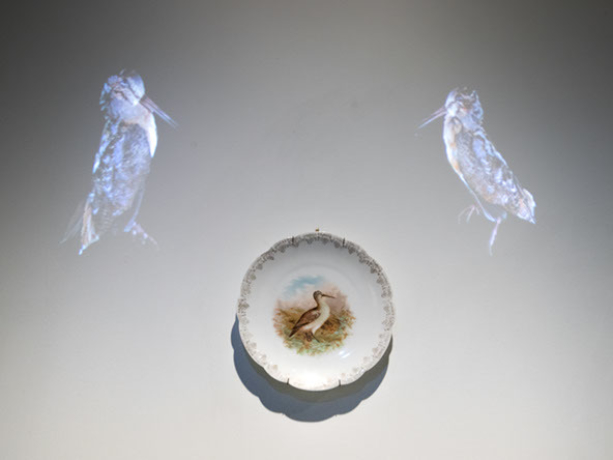 Exhibitions
NOCTURNAL SUNS
Emily Bivens
John Kelley
Mary Laube
John Powers
Nocturnal Suns is an exhibition featuring four faculty members from the UT School of Art.
Emily Ward Bivens is an Associate Professor of 4D arts and Time-Based Art at the University of Tennessee, Knoxville. She received her MFA from The University of Colorado, Boulder in 2004. Bivens uses found and made objects to forge narratives, provoke or encourage interaction, and reveal fictional and non-fictional mysteries. These objects shift from prop to subject to evidence when used in performance, video, and installation. Characters or identities are created to act as subjects, authors, inventors, and curators of the work.
John C. Kelley is an Assistant Professor of 4D and Time-Based Arts at the University of Tennessee Knoxville. His video work has screened domestically at venues such as The Mid-America Arts Alliance (Kansas City, MO), the Crystal Bridges Museum of American Art (Bentonville, AR) the Arizona International Film Festival (Tucson, AZ), The Front (New Orleans, LA), the Index Art Center (Newark, NJ), Living Arts (Tulsa, OK), internationally in cities such as London, Moscow, Berlin, Sao Paolo, Mexico City, Edinburgh, Vienna, Prague, Amsterdam and others. Kelley has written original music for award winning feature length narrative and documentary films through Gray Picture in St. Louis, MO, released music as a solo artist through King Electric Records in Austin, TX, and has appeared on more than 25 recordings and albums.
Mary Laube was born in Seoul, South Korea. She received her M.F.A. from the University of Iowa. Recent exhibitions include Piecing It Togetherat the Hawn Gallery in Dallas, Signaling to the Cipher towards a Segway at Field Projects in New York City, and Paper Planes at Whitdel Arts in Detroit. Her work has been supported by several artist residencies including the Virginia Center for the Creative Arts and Stiwdeo Maelor in Wales. She received the Illinois National Women in the Arts Award in 2009 and a Project Grant from the Iowa Arts Council in 2014. Laube is co-founder of the Warp Whistle Project, a collaborative duo with composer Paul Schuette. Their work was presented at the 2016 International Symposium on Electronic Art in Hong Kong. Recent exhibitions include shows at the Czong Institute for Contemporary Art in Gimpo, South Korea and Phyllis Weston in Cincinnati. Laube has served as a visiting artist at various institutions including the Virginia Commonwealth University Qatar, Kent State University, and Knox College. She is an Assistant Professor at the University of Tennessee Knoxville.
John Douglas Powers studied art history at Vanderbilt University and earned his MFA in sculpture, with distinction, at The University of Georgia. His work has been featured in The New York Times, World Sculpture News, Sculpture Magazine, Art Forum, The Huffington Post, Art in America, The Boston Globe and on CBS News Sunday Morning. He is the recipient of the 2013 Virginia A. Groot Foundation Award, a Joan Mitchell Foundation MFA Grant as well as a Southeastern College Art Conference Individual Artist Fellowship, an Alabama State Council on the Arts Fellowship, and the Margaret Stonewall Wooldridge Hamblet Award. Powers currently lives and works in Knoxville, Tennessee and is Assistant Professor of Sculpture at The University of Tennessee.