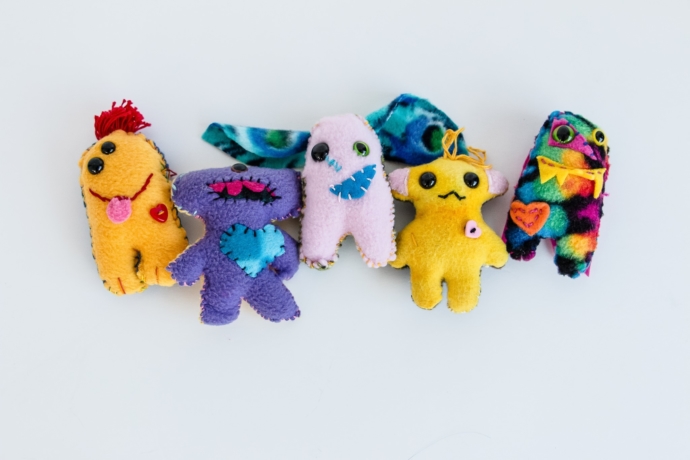 Exhibitions
MONSTERS MADE WITH LOVE
Kelly Sullivan, Connie Gaertner, Ashton Ludden, Susan Alexander, Stacy Monday, Vicki May, Melinda Sims, Gabrielle Kay, Issac Merkle, Andrew Messersmith, Laurie Kay, Christal Yost, Cheri Pollack, Kelly Hider, Hannah Isosaki, Tracy Homer, Jessica Gregory, Rebecca Warren, Amanda Humphreys, Nicholas Stawinski, Bryan Wilkerson, Michelle Compton, Preston Farabow, Megan Schefter, Barron Hall, Sean Simoneau, Nancy Rowland-Engle, Savanna Hoover, Victoria Wheelock
Join us at Dogwood Arts for the opening of Monsters Made with Love, an exhibition of 'perfectly imperfect monsters' curated by local artist Laurie Kay. The exhibition will include 30 local artists and makers whose fleece monsters are paired with a unique piece of art created in their individual styles and mediums.
The monsters will be a part of an online auction throughout the month of February. Proceeds will benefit youth art programs provided by Dogwood Arts + Monsters Made With Love.
Dates to Remember:

-February 7th-28th: Exhibition on Display in Dogwood Arts Gallery
-February 7th (First Friday): Exhibition Reception
-February 8th: Monster Workshop at Dogwood Arts (10A-12PM) | Register Here: http://bit.ly/2QXsRqu
-February 20th: Maker Meet-up at Dogwood Arts
-February 22nd: Monster Workshop at Dogwood Arts (6-8PM) | Register Here: http://bit.ly/37099Qh
Though workshops and sewing kits, Monsters Made with Love teaches people to make perfectly imperfect monsters while encouraging self-love. Sewing kits, available on Etsy, include everything you need to make a fleece monster to have and to hold. Workshops are great for all ages, genders and sewing levels.
Dogwood Arts, presented by ORNL Federal Credit Union, is a 501(c)3 organization with a mission to promote and celebrate our region's art, culture, and natural beauty. For more information, visit www.dogwoodarts.com or call (865) 637-4561.