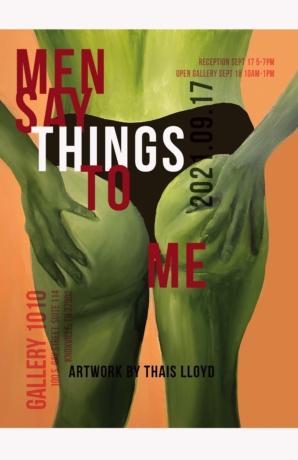 Exhibitions
THAIS LLOYD: MEN SAY THINGS TO ME
Thais Lloyd
After reading the book Men Explain Things to Me by Rebecca Sulnit, Lloyd was inspired to create a body of work that represents the way men often communicate to female presenting people, such as herself. She took to social media reaching out directly to friends and family to ask for quotes that men have said to them that have stuck out as less than savory. The quotes are used in the exhibit with their representative artwork in lieu of a standard title. Instead of the year that the work was created, you will find the year that the quote was said as well as the relationship the two people had at the time. The works are painted in oil, which was an intentional choice by Lloyd due to oils' long history of being primarily used to paint portraits of the bourgeois and ruling classes of society. Lloyd uses bold colors because she understands the eye's inability to ignore bright colors, which translates to the innate need for people to not ignore misogyny and sexism.
Lloyd has dedicated her art career to reclaim the images of female presenting nudes, which have historically been created for a male objectifying gaze. Through the College Scholars program at the University of Tennessee, Knoxville, Lloyd was able to create a major that allows her to study in depth the sociological and historical boundaries that have been set on female presenting individuals as well as the representation of female presenting bodies in works of art. Armed with this gained knowledge and her trusty paint brush, Lloyd creates pieces that represent female presenting people in ways they want to be presented. She consciously honors her models by using painting techniques and tools that represent power and prestige.
Men beware, Lloyd may use you as her next inspiration.