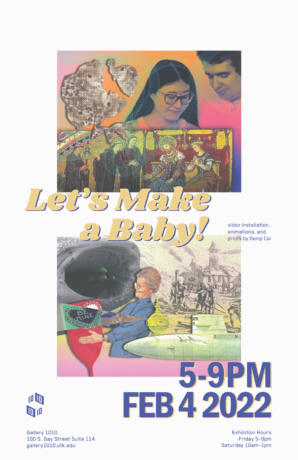 Exhibitions
DANQI CAI: LET'S MAKE A BABY!
Danqi Cai
Gallery 1010 is pleased to present Let's Make a Baby!, a body of work by Second-Year MFA student Danqi Cai [dan-CHI Tsai] that includes video installation, clay figurines, animations, and prints. The show revolves around a video of the same name, where the artist and her husband fashion a baby out of clay to lay bare the loving care in their decision not to have biological children.
---
Gallery 1010 is located at 100 S. Gay Street Suite 114 Knoxville, TN 37902. The opening reception will be held 5–9 pm on Friday, February 4. The show can also be viewed 10 am–1 pm on Saturday, February 5. To schedule a viewing outside of these hours, please email Danqi at dcai3@vols.utk.edu. For more information, visit gallery1010.utk.edu.