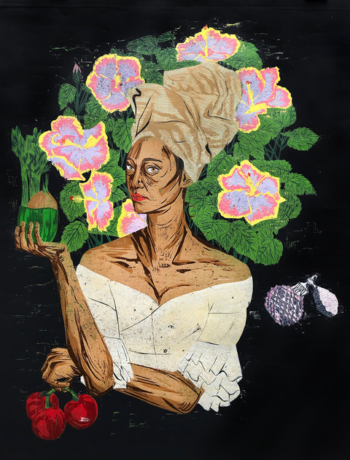 Exhibitions
KATRINA ANDRY
UT Downtown Gallery / 106 S. Gay St. January 5, 2024 - January 31, 2024 (Reception: January 5 5:00pm - 8:00pm)
Katrina Andry
The UT Downtown Gallery is pleased to present selections from two bodies of work by printmaker Katrina Andry - The Promise of the Rainbow Never Came and Colonial Colorism Influences in the Black Community.
A native of New Orleans, Andry received an M.F.A in printmaking in 2010. She currently lives and works in New Orleans where she maintains a studio.
Andry's work is often in dialogue with the viewer, asking them to confront their own race and gender biases and to consider how it affects the quality of life of their community writ large.
Andry was listed in the September, 2012 Art in Print magazine as one of the top 50 printmakers. She has recently shown at the Hammonds House Museum (solo), the Pensacola Museum of Art (solo), and the New Orleans Museum of Art. She has also been an artist-in-residence at Anchor Graphics in Chicago, Kala Art Institute in Berkeley, CA, and the Joan Mitchell Center in New Orleans.
This exhibition is co-sponsored by the School of Art Programming Committee and Africana Studies.