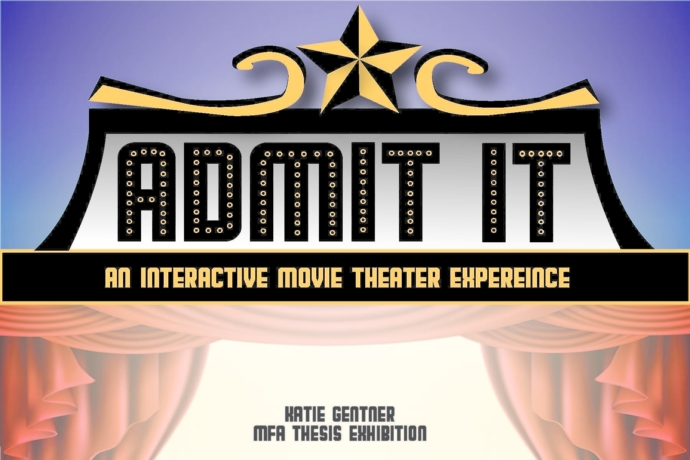 Exhibitions
KATIE GENTNER: ADMIT IT
Katie Gentner
Why don't you just Admit It? Join us for an interactive movie theater experience at our small underground cult film theater. Each show is a unique experience for audiences of fifteen at a time.
To reserve your seat visit the ticket booth prior to your showing or email admitittheater@gmail.com. Reserved tickets must be picked up at least 5 minutes prior to the start time or they will be forfeited.
The reception for the exhibition will be on Friday March 29th from 6-8pm.
This project is a part of Katie Gentner's Masters of Fine Arts Thesis Exhibition. This project could not be possible without the collaborative efforts of some amazing individuals. Our performers: MaKayla Allen, Perry Davis, Rachel Doub, Ellen Nikbakht, Cole O'Keefe, Jill Roland, Dede Sanders, Michael Santoro, Catherine Siravantha, Matt Styles, and Jaylin Witherspoon. Special thanks also goes to: Nick Flair, Brandon Rei, and Katie's thesis committee, Rubens Ghenov, Emily Bivens, John Kelly and Lynn Sacco.