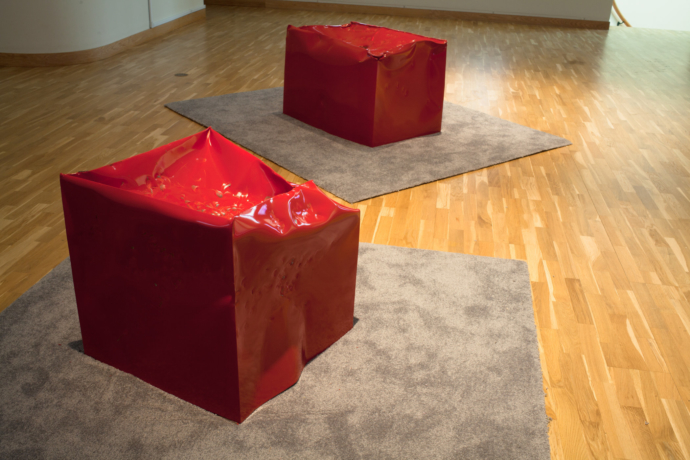 Exhibitions
​KATE GILMORE: IN YOUR WAY
Kate Gilmore
Join us on Thursday, January 17th for a lecture by Kate Gilmore and opening reception for her exhibition immediately to follow in the Ewing Gallery.

Lecture: 7:30PM, A+A room 109

Kate Gilmore: In Your Way features ten works—nine performance-based videos and one live performance/sculptural installation—by this New York-based artist known for synthesizing multiple artistic mediums including performance, video, sculpture, and painting. In her videos, Gilmore critiques and also inserts herself into male dominated movements such as Abstract Expressionism and Minimalism, exploring feminist themes and modern and contemporary art tropes, all the while exhibiting relentless determination. The spilling and splattering from her work are an ode to Abstract Expressionism or 1950s stripe paintings. Her works are mischievous and political, as well as humorous and critical of the heroic language and absence of women in these artistic movements. The physical situations and actions Gilmore creates for herself and her performers are metaphors for challenges women face culturally and socially.

Kate will give a public lecture on Thursday, January 17th at 7:30 PM in room 109 of the Art + Architecture Building. A brief reception for the exhibition will follow immediately in the Ewing Gallery.

Kate Gilmore: In Your Way was curated by Dan Mills and organized by the Bates Museum of Art at Bates College in Lewiston, ME.