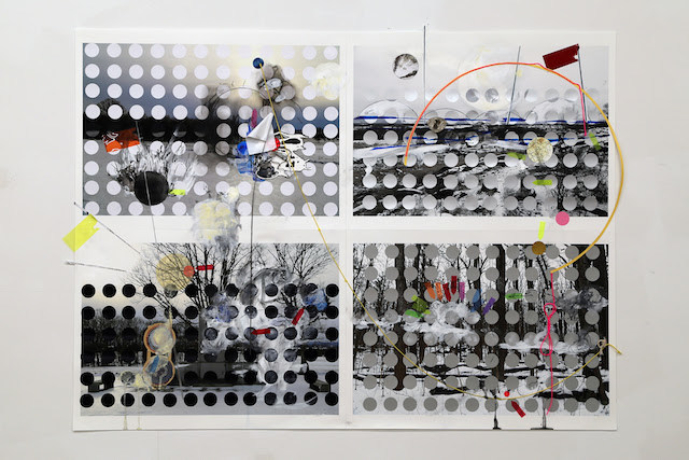 Exhibitions
JULIE WILLS: BATTLEFIELDS
Julie Wills
C for Courtside is pleased to present a solo exhibition by Maryland-based artist Julie Wills. The exhibition, titled Battlefields, uses sculpture, installation and collage to address social, political, interpersonal and interior conflict. The exhibition will be on view from July 5 through August 2, with an opening reception Friday July 5 and a closing reception Friday August 2.
Wills skillfully mines large complex systems - language, the cosmos, climate, human history - for image, text and metaphor to poetically investigate the deeply human questions nested within. Battlefields features works that explore individual joy and heartbreak in times of social or political upheaval. Diverse materials including photographs, prints, locator flags, vinyl, and plaster are arranged as a series of tactical maps for navigating or making sense of love and loss. In some instances, these works incorporate imagery from physical battle sites such as Gettysburg and the beaches of Normandy; in other cases, the site of conflict is figurative, revealed only in material vestiges.
---
Julie Wills is an interdisciplinary artist working in the expanded field of sculpture, including installation, collage, performance and architectural interventions. She has been awarded residency fellowships at Jentel (WY), PLAYA (OR), The Hambidge Center (GA) and Pyramid Atlantic Art Center (MD), and has received support for her work from the Foundation for Contemporary Arts in New York. Wills is a 2019 recipient of an Individual Artist Award from the Maryland State Arts Council and her works are included in the White Columns Artist Registry in New York and the Institute of Contemporary Art Baltimore Flat Files.
---
image: Julie Wills, Gettysburg, 2019, digital inkjet prints, vinyl, charcoal, acrylic, flags, theater gels, mason's line and mixed media; 34"h x 54"w