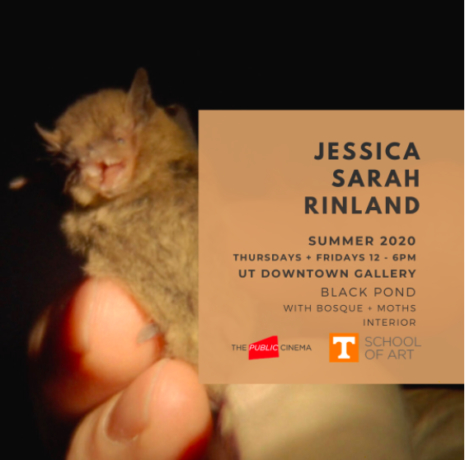 Exhibitions
JESSICA SARAH RINLAND: THE SOCIETY AT BLACK POND
Jessica Sarah Rinland
Argentine-British artist Jessica Sarah Rinland's installation, The Society at Black Pond, consists of three film works, and explores the activity within a common land in the south of England that was previously occupied by The Diggers, a collective of 17th century agrarian socialists. The land is currently inhabited by a Natural History Society whose occupations include bat and moth trapping, mycology, tree measuring, and botanical walks.
These three films offer a social and natural history of this particular location while exploring more intimately human's relationship with and within land and nature.
From Thursday June 11 - Friday, August 7, The UT Downtown Gallery will be screening Black Pond, Bosque, and Moths Interior.
Adjusted gallery hours will be Thursdays and Fridays 12-6pm. We ask that you practice good social distancing and wear a mask when visiting the gallery.
Thank you, and we're glad to be open again!