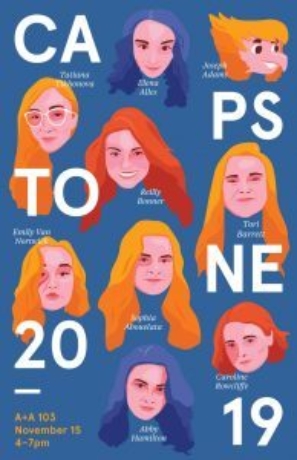 Exhibitions
FALL 2019 SENIOR CAPSTONE
Sophia Abouelata, Joseph Adams, Elena Alles, Tori Barrett, Reilly Bonner, Abby Hamilton, Emily, Van Nortwick, Caroline Rowcliffe, Tatiana Tikhonova
The School of Art presents the Capstone exhibition by BFA Studio Art majors graduating in December 2019.
The exhibition will be on view from 4 to 7 p.m. in room 103 of the Art + Architecture building.
A three-credit-hour course, the BFA Capstone allows studio art majors to engage in a self-initiated research project to demonstrate that a graduating senior has learned and can practice the skills and concepts of a chosen concentration (2D, 3D, or 4D Art). The Capstone also demonstrates the students' ability to intellectualize and articulate issues and ideas about contemporary art. Successful completion of the Capstone course is a requirement of graduation.