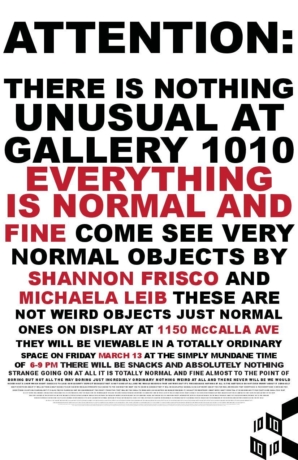 Exhibitions
SHANNON FRISCO & MICHAELA LEIB: EVERYTHING IS NORMAL AND FINE
Shannon Frisco, Michaela Leib
Attention: There Is Nothing Wrong with Gallery 1010.
This is a completely normal show with completely normal work and nothing out of the ordinary.
Come see a very average installation with very little to offer in the way of surprises.
This almost (but not quite) boring show will open at 6 PM on March 13. And although you do not have to arrive right at 6, we would appreciate it if you leave by 9. Additional, reasonable gallery hours are available on Saturday and Sunday, but the installation will be especially normal on Friday night so do your best to arrive at that time.
There will be snacks.
Once again, Everything is Normal and Fine, and we would never lie to you about that.