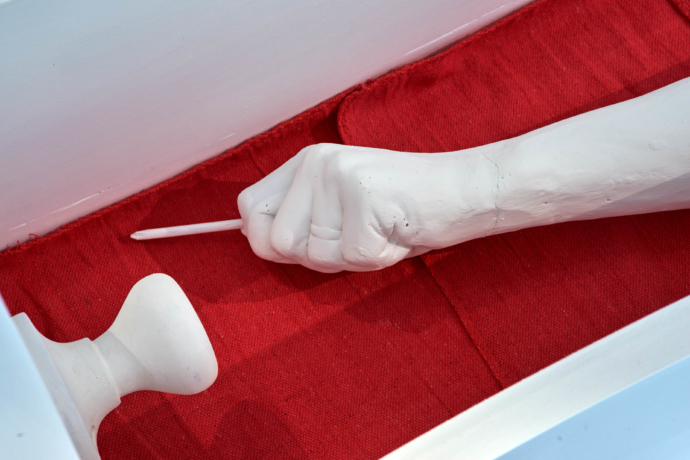 Exhibitions
ELEMENTS & DREAMS
Raymond Padron, Sarah Shebaro
Tri-Star Arts is pleased to announce the next exhibition in their gallery at the historic Candoro Marble Building. A two-person show, Elements & Dreams, featuring works by artist Raymond Padron (Chattanooga, TN) and Sarah Shebaro (Knoxville, TN) will open on Tuesday, May 18, and run through Saturday, July 10, 2021. Public receptions will be held on Friday, May 21 from 5:00- 8:00 pm and Friday, July 2 from 5:00- 8:00 pm. An in-person artist talk will be held on Friday, July 2 at 3:30 pm.
Raymond Padron states: "I describe my studio practice as an epistemology through craft. Regardless of the subject, I am continually drawn to the question of how we gain knowledge, form our beliefs, and seek truth while recognizing the ever-expanding complexity and uncertainty of the systems we confront. Even our methods of gathering this information—reason, introspection, perception, memory, and the testimony of others—seem to have us shift our weight from one to the other as we embrace or grow beyond the values we trust.
In parallel, my engagement of traditional craft functions as a framework for my practice and is a tenuous anchor for my explorations. The complex relationship between tradition and improvisation is an essential consideration. It compels me that these two methods seem at odds, and yet we can find a great sense of identity in both the culturally-rooted performance and in the self-expressive nature of the improvisational act. Conversely, our relationship to both can just as easily produce distance and a loss of identity. This relationship is significant to my practice as I seek to make work that carries a vague sense of familiarity, yet is deeply sincere in both its physical presence and conceptual complexity."
Sarah Shebaro explores origin through the historical study of ancient and medieval visual themes and an obsessive sketchbook practice. The resulting imagery is disseminated through a combination of processes including varying traditional, originally functional, handcraft techniques.
Shebaro relies on specific techniques, such as appliqué, patch making, and letterpress that were initially developed and practiced for functional reasons. This parallels the probable explanation of why humans started to drawing images from life, to communicate and live on in the historical record. By combining these elements Shebaro's goal is to gain perspective and appreciation and nudge the viewer towards doing the same.
This exhibition will be open to the public, alongside iconic spaces within the Candoro Marble Building, regularly from Tuesday through Saturday, 11:00 am until 5:00 pm going forward. Masks and social distancing (6 feet apart) are required. The gallery occupancy is limited to a maximum of 10 persons at a time.
Tri-Star Arts is based at the Candoro Marble Building with its main office, gallery space, and artist studios. Their gallery features exhibitions with a local, state-wide, and national focus on contemporary visual art.
Built in 1923, the Candoro Marble Building originally served as the offices and showroom for the Candoro Marble Company. It showcases a Charles Barber-designed Beaux-Arts architectural style, beautiful Tennessee pink marble, and an iconic tree-lined drive on its one-acre grounds. The Aslan Foundation recently completed a substantial restoration of the building. In partnership with the Aslan Foundation, Tri-Star Arts oversees programming at the site. It is located at 4450 Candora Avenue, Knoxville, TN 37920.
---
About Raymond Padron:
Raymond Padron is a sculptor and performance-based artist, working in a broad diversity of processes and materials. He uses traditional craft and its relationship to improvisation to explore how we form our identity and beliefs.
Born in 1983, he grew up in the Northern Virginia suburbs of DC. In 2005 after receiving his B.A. in sculpture and graphic design from Messiah College in Grantham, PA, he moved south to the city of Chattanooga, TN. In 2011 he received his M.F.A. from the University of North Carolina, Chapel Hill. He has since returned to Chattanooga where he now makes art, exhibits nationally, and teaches.
About Sarah Shebaro:
Sarah Shebaro is a multidisciplinary artist, printmaking instructor, and designer residing in Knoxville, TN. She's currently a printer and co-owner of Striped Light, a letterpress studio and cultural space that opened in January of 2015.
The center of her artistic practice relies on working and teaching in communal creative spaces. She has previously taught at the Pratt Institute (NYC), Manhattan Graphics Center, Southern Oregon University, and the Penland School of Craft.
About Tri-Star Arts:
Tri-Star Arts serves Tennessee by spotlighting and growing the contemporary visual art scenes in each region and fostering a unified state-wide art scene. Their programs promote art dialogue between the different cities in the state, and between the state and the nation. Their initiatives include regular state-wide exhibition projects, the Current Art Fund, a speaker series, the LocateArts.org web resource, the forthcoming Tennessee Triennial, and now their base of operations at the Candoro Marble Building with a new gallery exhibition space and artist studios.