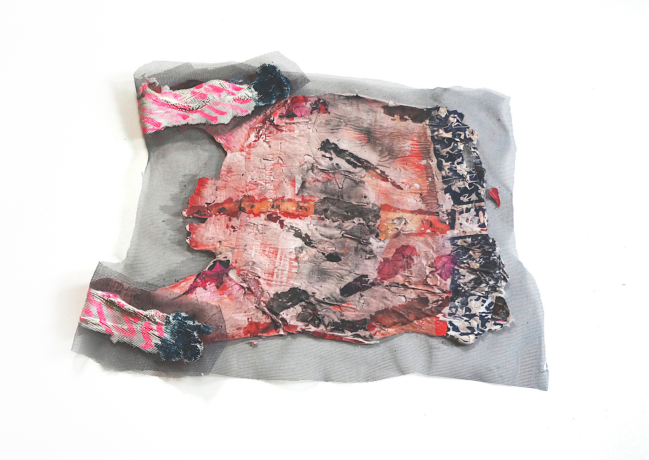 Exhibitions
ELEANOR ALDRICH: SERPENT'S QUARTERS
Eleanor Aldrich
BAD WATER presents Eleanor Aldrich: SERPENT'S QUARTERS. On view January 4 through January 28, the opening reception will take place on Friday, January 4 from 6 to 9 p.m.
SERPENT'S QUARTER'S plays with the garage space of BAD WATER as the kind of out-building where do-it-yourself work happens, as well as the serpent as a spiritual trickster. The stage and floating clothing embody the feeling of an alternative chapel. Jackets and upholstery play host to found-image transfers, sculptural surfaces, drawn and real shadows. The grid is a motif throughout. Used as the support of the work, the grid is at times strained, pressed against, squeezed through, and decorated by the material. Belief shifts between the actual and illusion.
Aldrich's work is textural and alchemical. She matches materials – often industrial sealants – and techniques to the subject matter they resemble in order to achieve a convincing approximation while short-cutting rendering. Utilizing unruly materials, the substances Aldrich manipulates retain partial control over their final form — interrupting illustration and retaining the truth of their physical nature. She works with a kind of mimetic literalism that embodies the physicality of the subject while serving pictorial conventions, posing questions about physicality as the standard of reality.
---
Eleanor Aldrich (b. 1984 | Springerville, AZ) lives and works in Knoxville, Tennessee. She received her MFA from The University of Tennessee and attended Skowhegan School of Painting & Sculpture in 2012. She participated in the Drawing Center's Open Sessions (2014 - 2016), and her work has been included in New American Paintings and on ArtForum.com.
BAD WATER is an artist-run gallery set in a once vacant backyard structure located in Knoxville, Tennessee | behind 320 E. Churchwell Ave. | www.badwater.gallery