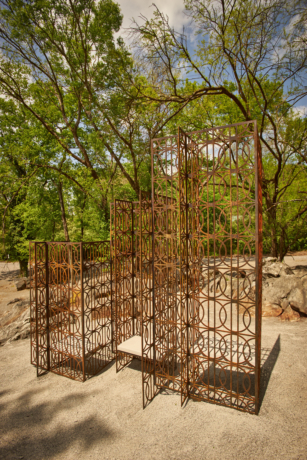 Exhibitions
EDRA SOTO: GRAFT KNOXVILLE
Edra Soto
Contact info@tristararts.org to schedule your visit to the site.
---
On May 6, 2022 at 11:00 am, there will be a public unveiling ceremony on the grounds of the recently established University of Tennessee/GATOP Arboretum & Education Center (UTGA&EC) celebrating a new landmark sculpture, designed by noted Chicago-based artist Edra Soto, located at 2631 Riverside Drive, Knoxville, TN 37914.
Two and a half years in the making, Graft Knoxville, sited at the former Morrow's Quarry (located on the western portion of the UTGA&EC) consists of three interrelated Corten steel bench modules and includes three polished white marble benches, cut from an abandoned block from the quarry site. Soto's sculpture incorporates the geometric designs of iron Rejas screens popular throughout her native Puerto Rico.
Edra Soto's internationally recognized work is transformative. Her use of the Rejas form is at once expansive and personal in scale. Throughout the course of her work, Soto has engaged the public through many architectural interventions. For Graft Knoxville, she responded to the rolling topography of the sculpture site with a work that anticipates visitors and offers a space of contemplative rest.
Edra Soto's Graft Knoxville project has been curated and managed by Brian R. Jobe, Director of Tri-Star Arts. The project's vision began in late 2019 when Soto traveled with Tri-Star Arts to speak at the UT School of Art in Knoxville and view potential sculpture sites. On that trip, she selected a site on the grounds of the recently established University of Tennessee/GATOP Arboretum & Education Center (UTGA&EC) at the invitation of Dr. Alan Solomon. From that point forward, Jason S. Brown (UT Sculpture program) and Dr. Andrew J. Pulte (UT Department of Plant Sciences), were involved in all levels of strategic planning and project coordination.
Following the site selection, Soto began work on a site-responsive design using the formal language and narrative themes from her Graft series. Brandon Pace, Natalia Almonacid, and Lauren Mullane-Searle of Sanders Pace Architecture engaged in work with Soto and Tri-Star Arts to visualize and conceptualize the design into architectural renderings. Maurice Mallia of Mallia Engineering Company then offered key engineering consultancy in response to the renderings.
Once a range of plans and fabrication schematics were incorporated into the renderings, Dr. Andy Pulte of the UT Department of Plant Sciences acquired the corten steel and it was cut into the requisite pattern shapes by Craig Gillam at the UT Fab Lab, using a state-of-the-art water jet cutter. The steel sheets were then welded by Casey Fletcher into the final bench module forms in coordination with Jason S. Brown, head of the Sculpture program at the UT School of Art. Graft Knoxville also was to include three marble benches. For this purpose, an abandoned block of marble from the old Morrow's Quarry was cut into three sections under the direction of Josh Buchanan at the Tennessee Marble Company.
Doug Kennedy and his crew at Johnson & Galyon Construction then prepared the site and secured the sculptures in place using expert precision. After UT Sculpture delivered the work, completed site welding, and placed the marble bench seats, the installation process was complete.
Throughout the project's duration, many calls, meetings, and site-visits were held to ensure that open communication, the core design strategy, and a unified process were clearly defined. This project's process was unique and memorable due to the profound generosity and shared vision of all Graft Knoxville project partners.
---
Edra Soto is a Puerto-Rican born artist, curator, educator, and co-director of the outdoor project space, The Franklin. Soto has exhibited extensively at venues including El Museo del Barrio, NY; Crystal Bridges Museum of American Art's satellite, The Momentary, AR; Albright-Knox Northland, NY; Museum of Contemporary Art of Chicago, IL; Smart Museum, IL and the Abrons Arts Center, NY. Recently, Soto completed a large-scale public art commission titled Screenhouse, currently on view at Millennium Park in Chicago, Illinois. The artist has attended residency programs at Skowhegan School of Painting and Sculpture, Beta-Local, the Robert Rauschenberg Foundation Residency, Headlands Center for the Arts, Project Row Houses and Art Omi, among others. Soto has been awarded the Efroymson Contemporary Arts Fellowship, the Illinois Arts Council Agency Fellowship, the inaugural Foundwork Artist Prize and the Joan Mitchell Foundation Painters & Sculptors Grant, among others. Between 2019-2020, Soto exhibited and traveled to Brazil, Puerto Rico, and Cuba as part of the MacArthur Foundation's International Connections Fund. Soto holds an MFA from the School of the Art Institute of Chicago and a Bachelor's degree from Escuela de Artes Plásticas y Diseño de Puerto Rico. The artist lives and works in Chicago, Illinois.
---
Edra Soto's Graft Knoxville project was organized and curated by Tri-Star Arts. Tri-Star Arts gratefully acknowledges the generosity and shared vision of the project partners: Dr. Alan Solomon, Johnson & Galyon Construction, Mallia Engineering Company, Sanders Pace Architecture, Tennessee Marble Company, UT Fab Lab, UT Department of Plant Sciences, UT School of Art, UT Sculpture program, and numerous hard working UT students, staff, and alumni.
---
About Tri-Star Arts:

Tri-Star Arts serves Tennessee by cultivating and spotlighting the contemporary visual art scenes in each region while fostering a unified state-wide art scene. Tri-Star Arts programs promote art dialogue between the different cities in the state, and between the state and the nation.
Tri-Star Arts initiatives include a gallery space and artist studios at the historic Candoro Marble Building, Current Art Fund grants, state-wide exhibition projects, a speaker series, digital content, the 2023 Tennessee Triennial, and the LocateArts.org web resource.