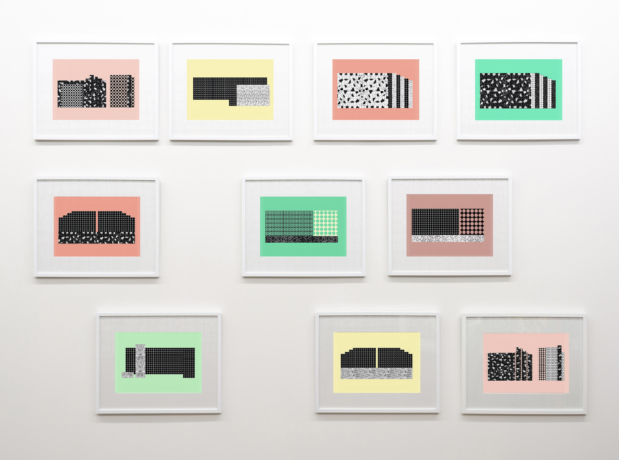 Exhibitions
EDRA SOTO: GRAFT
Edra Soto
Tri-Star Arts announces a special exhibition in their gallery at the historic Candoro Marble Building. A solo show, Graft, featuring work by artist Edra Soto of Chicago, Illinois opens on Tuesday, December 7, 2021 and will run through Saturday, February 12, 2022. Public receptions will be held on Friday, December 10, 2021 from 4:00- 8:00 pm and Friday, February 4, 2022 from 5:00- 8:00 pm (artist in attendance on February 4).
This exhibition will precede the unveiling of a permanent, outdoor sculpture by Edra Soto, Graft Knoxville, in April 2022 at the UT GATOP Arboretum & Education Center in Knoxville, Tennessee. This site-specific sculpture initiative has been organized and curated by Tri-Star Arts in partnership with the UT Department of Plant Sciences, UT School of Art/ Sculpture Department, UT College of Architecture + Design/ FabLab, Sanders Pace Architecture, Johnson & Galyon Construction, Mallia Engineering Company, and Tennessee Marble Company. Graft Knoxville is in its final stages of production with more information and related public events forthcoming.
The Graft exhibition at the Candoro Marble Building features sculpture and prints by Edra Soto alongside a visual exploration of her design process, including scale models, a real-scale block module, and project renderings by Knoxville-based firm Sanders Pace Architecture.
Edra Soto will also give an artist lecture on Thursday, February 3 at 7:30 pm at the University of Tennessee, Art & Architecture building, room 109. It is free of charge and all are invited.

---
Edra Soto is a Puerto-Rican born artist, curator, educator, and co-director of the outdoor project space, The Franklin. Soto has exhibited extensively at venues including El Museo del Barrio, NY; Crystal Bridges Museum of American Art's satellite, The Momentary, AR; Albright-Knox Northland, NY; Museum of Contemporary Art of Chicago, IL; Smart Museum, IL and the Abrons Arts Center, NY. Recently, Soto completed a large-scale public art commission titled Screenhouse, currently on view at Millennium Park in Chicago, Illinois. The artist has attended residency programs at Skowhegan School of Painting and Sculpture, Beta-Local, the Robert Rauschenberg Foundation Residency, Headlands Center for the Arts, Project Row Houses and Art Omi, among others. Soto has been awarded the Efroymson Contemporary Arts Fellowship, the Illinois Arts Council Agency Fellowship, the inaugural Foundwork Artist Prize and the Joan Mitchell Foundation Painters & Sculptors Grant, among others. Between 2019-2020, Soto exhibited and traveled to Brazil, Puerto Rico, and Cuba as part of the MacArthur Foundation's International Connections Fund. Soto holds an MFA from the School of the Art Institute of Chicago and a Bachelor's degree from Escuela de Artes Plásticas y Diseño de Puerto Rico. The artist lives and works in Chicago, Illinois.
---
This exhibition will be open to the public regularly from Tuesday through Saturday, 11:00 am until 5:00 pm, alongside iconic spaces within the Candoro Marble Building (located in the Vestal neighborhood of Knoxville). The use of masks and social distancing is strongly encouraged.
Tri-Star Arts is based at the Candoro Marble Building with its main office, gallery space, and artist studios. Their gallery features exhibitions with a local, state-wide, and national focus on contemporary visual art.
Constructed in 1923, the Candoro Marble Building originally served as the offices and showroom for the Candoro Marble Company. It showcases a Charles Barber-designed Beaux-Arts architectural style, beautiful Tennessee pink marble, and an iconic tree-lined drive on its one-acre grounds. In early 2021, the Aslan Foundation completed a substantial restoration of the building. In partnership with the Aslan Foundation, Tri-Star Arts oversees programming at the site. It is located at 4450 Candora Avenue, Knoxville, TN 37920.
---
About Tri-Star Arts:
Tri-Star Arts serves Tennessee by cultivating and spotlighting the contemporary visual art scenes in each region while fostering a unified state-wide art scene. Tri-Star Arts programs promote art dialogue between the different cities in the state, and between the state and the nation.
Tri-Star Arts initiatives include a gallery space and artist studios at the historic Candoro Marble Building, Current Art Fund grants, state-wide exhibition projects, a speaker series, digital content, the forthcoming Tennessee Triennial, and the LocateArts.org web resource.