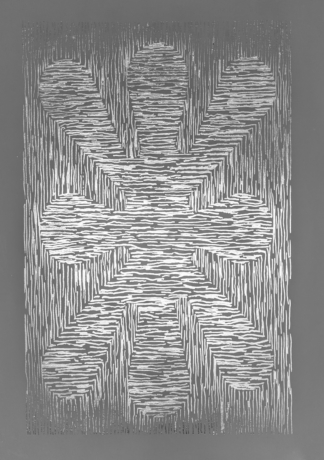 Exhibitions
DAVID WILSON: SHINY
David Wilson
Shiny, an upcoming exhibition by Professor Emeritus David Wilson at the UT Downtown Gallery, will feature 49 drawings of imitation silver leaf on translucent vellum. The exhibit opens with a reception from 5-8 p.m. Friday, November 6, during Knoxville's First Friday Art Walk.
Wilson began his academic career at the UT School of Art in 1985. He uses non-traditional materials and approaches, including process and chance, in his large temporary artworks and drawings. The drawings in Shiny rely on reflected light to reveal the image.
"This exhibition is an opportunity to realize images that have been in my head for a long time and to do so using a process that makes them new."
All the drawings in Shiny are available for purchase, and proceeds benefit the UT School of Art David C. Wilson Community Outreach Endowment that supports local community engagement projects and initiatives by students and faculty. The endowment was established in honor of Wilson's service to the School of Art by his long-time friends and School of Art development council members Sarah and Oliver Smith.
The exhibition runs through Wednesday, November 25. The UT Downtown Gallery is open Wednesday - Friday, 11am - 6pm and Saturdays 10am - 3pm.