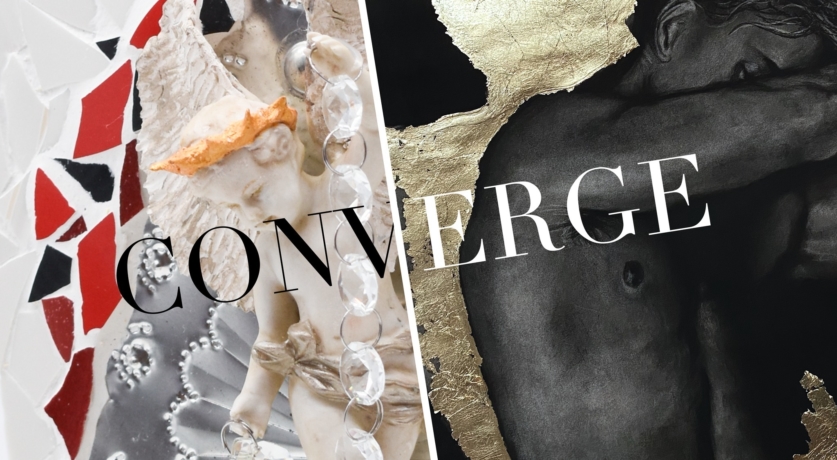 Exhibitions
CONVERGE
Eugenia Almeida, Maria Elena Mendez Aquino, Reem Arnouk, Ilina Arsova, Kybreiana Barham, Jose and Pepe Calabres, Manuel Carreon, Enrique Cruz, Luiza Francisco, Maria Pedro Francisco, Marina Gulevich, Nidhi Jani, Estefania Jose, Markiian Lukyniuk, Mene Manresa, Eve Andres Martin, Hei Park, Dolores Francisco Pedro, Arely Recimos, Ramirez, Héctor Saldivar, Antoine Seni, Ruchi Singh, R.E. Toledo, Rocio Valenzuela, SK Yi
Join us at Dogwood Arts during March First Friday for the opening reception of Converge: Coming Together, Embracing Balance featuring work by 25 local immigrant & refugee artists.
Curatorial/Exhibition Statement
Converge is a multimedia group exhibition that explores the concept of balance. Seemingly opposing forces are really two sides of the same coin and both must be embraced to live fully. As we reckon with light and dark, loss and joy, loneliness and belonging amidst the organized chaos of life, we find ways to deposit beauty into the world through artistic self-expression.
Featuring work by 25 local immigrant and refugee artists, the exhibition aims to reveal the beauty of community when many people and cultures come together. The choice of media in the selected artworks varies as much as the artists' individual stories, experiences, and cultures. Standing side by side, embracing all that life brings, we are weaving a new tapestry together.
The exhibition was curated by Jalynn Baker, the Inclusion & Community Outreach Coordinator for Dogwood Arts. Collaborating with several local organizations to assemble this multinational group of artists, we hope viewers will consider how they can embrace the convergence of different people and ideas in their own lives.
Special thanks to:
• Bridge Refugee Services
• Centro Hispano
• HoLa Hora Latina
• KIN (Knoxville International Network)
• Open Arts Knoxville
• The Maker City
Cover Photo: [detail] Héctor Saldivar, El Angel de la Abundancia (left) | Enrique Cruz, Ghost (right)
First Fridays at Dogwood Arts are sponsored by ORNL Federal Credit Union, the Tennessee Arts Commission, and Cherokee Distributing. For more information, visit dogwoodarts.com or call 865.637.4561