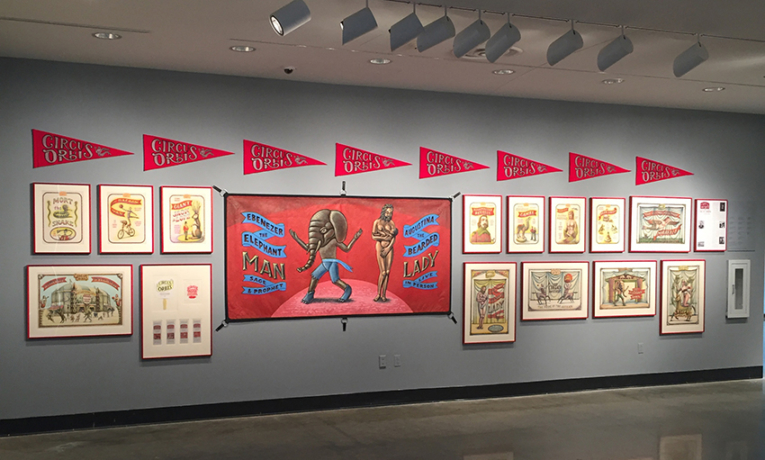 Exhibitions
CIRCUS ORBIS
Adam Hartstone-Rose
This exhibition offers a window into a little-known part of Tennessee history. Founded in 1908 by Thaddeus Evergood, Circus Orbis was a regional circus based in Jacksboro, Tennessee that performed in the American South and Midwest for more than 20 years. Curated by Beauvais Lyons, the exhibition includes a selection of lithographs, printed ephemera (including pop-up books and a paper puppet theatre), as well as facsimiles of painted banners. To provide a historic context for the circus, the exhibition includes a series of historic photographs made by Adam Hartstone-Rose from the 1920s and a sampling of circus music. Circus Orbis was well known for several female performers, including Augustina "The Bearded Lady," and Lysippe, "The Amazon Queen," both of whom challenged common representations of women from this era. Circus Orbis gave its final performance on Friday July 26, 1929, when the "Splendorium," the Circus Orbis "Show Palace," was destroyed in a fire during an afternoon performance at the Paducah, Kentucky fairgrounds. With the crash of the stock market three months later, Evergood was not able to find investors to help him to reestablish the circus. It remains as a unique part of Tennessee history.

Circus Orbis - See to Believe is curated by Beauvais Lyons, who is both Director of the Hokes Archives, as well as a Chancellor's Professor of Art at the University of Tennessee. Lyons has organized more than 80 exhibitions that have travelled across the United States as well as abroad. The Hokes Archives includes collections of archaeology, medical arts, folk art, zoology, and circus history. Works from the Hokes Archives have been placed in the collections of the Smithsonian Museum of American Art, the Library of Congress, and the Philadelphia Museum of Art.
https://art.utk.edu/printmakin...
The exhibitions will be on display at the Emporium Center, 100 S. Gay Street, in downtown Knoxville. The Emporium is open to the public Monday-Thursday 9:00 AM - 5:00 PM, Friday 9:00 AM – 7:00 PM (except Fri Mar 17), and Saturday 10:00 AM – 1:00 PM. For more information, please see www.knoxalliance.com or call (865) 523-7543.