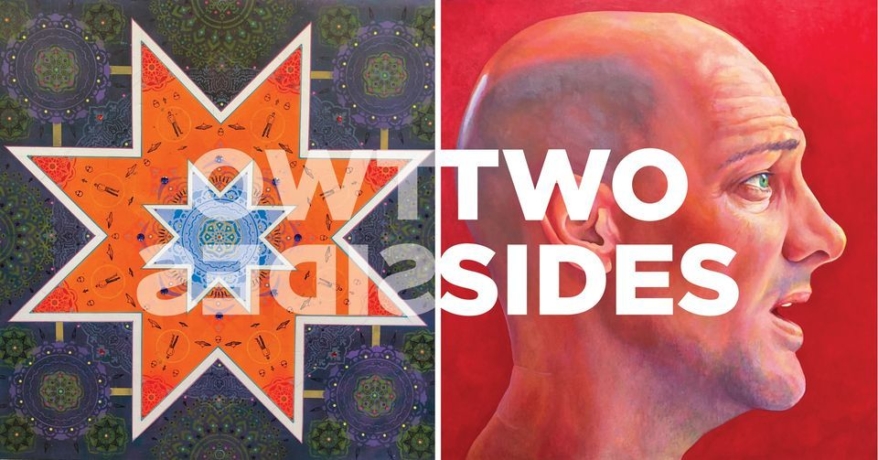 Exhibitions
CARL GOMBERT: TWO SIDES
Carl Gombert
About the Exhibition:

"There are two sides to my work. I am committed to the techniques of large scale, unflinching realism. But I also am strongly compelled by the mathematical complexities and opportunity for play in decorative, patterned works. For years I was torn between the two sides, vacillating between them in a fool's game of trying to guess what work was best suited for which venue, and trying to decide which was my "true" practice. I am old enough now to know that both are authentic parts of my voice. I love pattern, I love decoration, and I love sparkle. I also love to draw. For years I have wrestled with the false expectation that artists must be unfailingly committed to a single consistent path.
I think of the realistic images as plausible fictions. They use the techniques of realism to create impossibly large or artificially colored portraits "as if" those sitters actually exist.
The hand-stamped works, on the other hand, rely on radial structure and repetition to explore complexity arising from the application of simple rules. Taking the forms of mandalas and quilts, they attempt to balance opposites, relying equally on dark and light and on positive and negative shapes. Although they appear highly planned, the work results from a largely improvisational approach. Combinations of images are not generally selected beforehand; rather the images begin in the center and evolve intuitively as they grow larger. The interaction of smaller pop culture icons and images allows for endless free association and for exploring multiple chains of connection between the parts, while at the same time coalescing into larger complex patterns. In this little world there is symmetry and balance and order, but neither rhyme nor reason."
-Carl Gombert
---
Carl Gombert was born in Brimfield, Ohio in 1959. He started taking painting lessons at the age of 14 with money he earned delivering newspapers. He earned a BFA in Drawing from the University of Akron and an MFA in Painting from Kent State University. He worked as a stagehand before pursuing a Ph.D. in Interdisciplinary Fine Arts at Texas Tech University. He has exhibited widely and his work is in numerous public and corporate collections. Since 1993 has taught painting, drawing and art history at Maryville College in Tennessee.