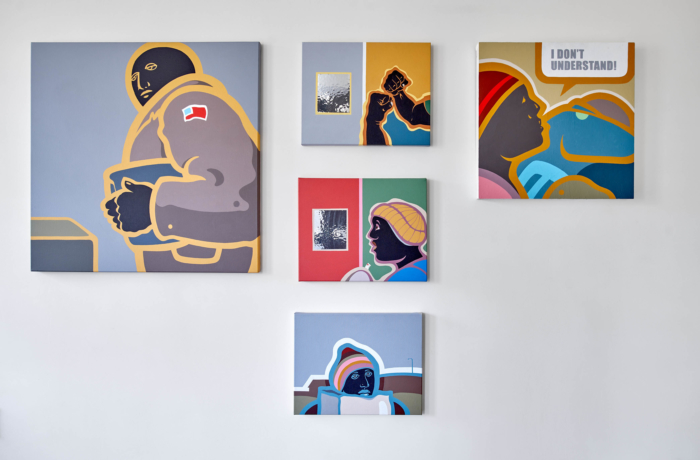 Exhibitions
CARL E. MOORE & DAVID JON WALKER: FROM WONDER TO WONDER
Carl E. Moore, David Jon Walker
Tri-Star Arts is pleased to announce the next exhibition in their main gallery at the historic Candoro Marble Building. A two-person show, From Wonder To Wonder, featuring work by artists Carl E. Moore of Memphis, Tennessee and David Jon Walker of New Haven, Connecticut opens Friday, February 18, 2022 and will run through Saturday, April 23, 2022. Public receptions will be held on Friday, February 18, 2022 from 5:00- 8:00 pm (artists in attendance) and Friday, April 1, 2022 from 5:00- 8:00 pm. Moore and Walker will give a public artist talk together on Friday, February 18 at 3:30pm in the gallery.
The work of Carl E. Moore and David Jon Walker shares a range of overlapping concerns which include illustrating affirmations of humanity, addressing the ongoing struggle for civil rights and human rights, shared graphic sensibilities and commonalities in the expression of characters, figures, and typography, a love of process, and an ongoing pursuit of innovation within in their practices.
From Wonder to Wonder at the Candoro Marble Building features recent paintings by Carl E. Moore from his Good Neighbor series as well as a new Tri-Star Arts commissioned sculpture by David Jon Walker alongside a selection of his text + image prints.
---
Carl E. Moore (b. Canton, Mississippi) lives and works in Memphis, Tennessee as an artist and designer. He attended the School of the Art Institute of Chicago and the Memphis College of Art where he received his BFA and MFA.
Moore states: "My work deals with color and identity. My goal is to compare social ideologies about race, stereotypes, and belief systems to everyday colors and the perception of these colors in our environment. As part of my process, black has always been a color of identity for Black people, Black American, African American, etc. just as white, for Caucasian or those of European descent, and brown for the South and Central American population. The color black has always been perceived as negative, so I've taken the color black and made it the narrative, and used it as part of the emotional conversation. The goal is to make the dialogue more about the artwork and less about the color of the characters, even though the characters are part of that narrative."
"I use media-based events as the primary theme of my work, reducing situations down to their most basic narrative. I use color and content to redefine the conversation by developing a social connection between the characters and their environment. The color becomes an important part of that dialogue, and the content becomes part of the social statement. I consider my work to be a form of visual communication using simplicity and depth to express social and ethical issues. I want to create a conversation between both the personal and public by using color and composition to express mood, situation and ideas. By placing people and objects in common and uncommon situations, it allows me to deal with specific subjects from various perspectives."
David Jon Walker is a Graphic Designer and Associate Professor of Art in Graphic Design at Austin Peay State University. He is also principal of Rhealistic Design, a design consultancy that is active locally and nationally. As a sought-after creative, David works with national political candidates, PACs, large non-profits, governmental entities, and varying businesses lending his talents to their marketing efforts to increase awareness and further campaigns. Living his best days, he examines social cues and the historical past to shape the aesthetic of his visual voice for personal lettering projects with fun and intention. His award-winning works have been recognized by Graphic Design USA, Campaigns and Elections, the International Association of Business Communicators, AIGA, Typism and the College Media Association. He is currently pursuing a MFA in Graphic Design with a focus on letterform and typography at Yale School of Art.
---
This exhibition is open to the public regularly from Tuesday through Saturday, 11:00 am until 5:00 pm, alongside iconic spaces within the Candoro Marble Building (located in the Vestal neighborhood of Knoxville). The use of masks and social distancing is encouraged.
A public tour of this exhibition will be held at Tri-Star Arts (Candoro Marble Building, 4450 Candora Avenue, Knoxville, Tennessee 37920) on Fridays at 1:00pm EST on following dates: February 25, March 4, March 11, March 18, March 25, April 1, April 8, April 15, and April 22. All are invited.
Tri-Star Arts is based at the Candoro Marble Building with its main office, gallery space, and artist studios. Their gallery features exhibitions with a local, state-wide, and national focus on contemporary visual art.
Constructed in 1923, the Candoro Marble Building originally served as the offices and showroom for the Candoro Marble Company. It showcases a Charles Barber-designed Beaux-Arts architectural style, beautiful Tennessee pink marble, and an iconic tree-lined drive on its one-acre grounds. In early 2021, the Aslan Foundation completed a substantial restoration of the building. In partnership with the Aslan Foundation, Tri-Star Arts oversees programming at the site. It is located at 4450 Candora Avenue, Knoxville, TN 37920.
---
About Tri-Star Arts:
Tri-Star Arts serves Tennessee by cultivating and spotlighting the contemporary visual art scenes in each region while fostering a unified state-wide art scene. Tri-Star Arts programs promote art dialogue between the different cities in the state, and between the state and the nation.
Tri-Star Arts initiatives include a gallery space and artist studios at the historic Candoro Marble Building, Current Art Fund grants, state-wide exhibition projects, a speaker series, digital content, the 2023 Tennessee Triennial, and the LocateArts.org web resource.