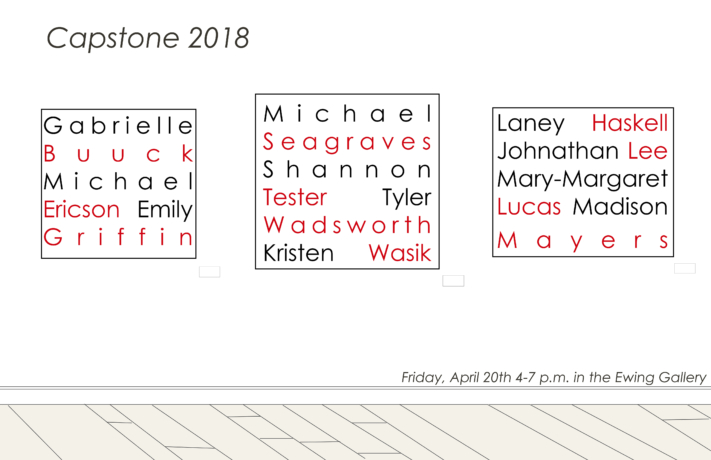 Exhibitions
CAPSTONE 2018
Gabrielle Buuck
Michael Ericson
Emily Griffin
Laney Haskell
Jonathan Lee
Mary-Margaret Lucas
Madison Mayers
Michael Seagraves
Shannon Tester
Tyler Wadsworth
Kristen Wasik
Capstone is a final exhibition undertaken by all University of Tennessee BFA Studio Art Majors.
The Capstone course is a requirement for all BFA Studio Art majors. Students take Capstone in the final semester of their BFA degree. During Capstone students engage in a self-initiated research project to demonstrate that a graduating senior has learned and can practice the skills and concepts of a chosen concentration (2D, 3D, 4D). The Capstone also demonstrates the student's ability to intellectualize and articulate issues and ideas about contemporary art. Successful completion of the Capstone course is a requirement of graduation.

The Ewing Gallery with the UT School of Art is pleased to present the work of these students for this one night only exhibition.