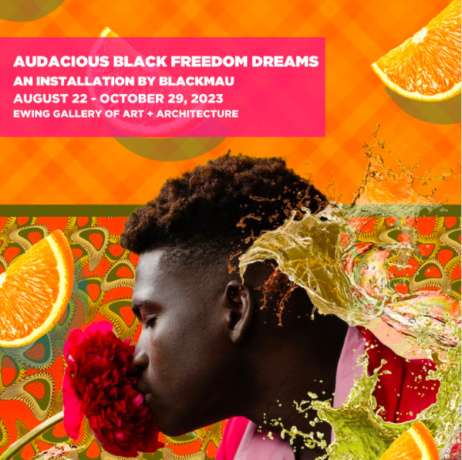 Exhibitions
BLACKMAU: AUDACIOUS BLACK FREEDOM DREAMS
BLACKMAU
This exhibition features a multimedia projection and seven 7-foot banners created using digital collage. These images visually mimic the audio sampling used throughout hip hop musical production and the process of crafting a tight DJ set, which inspire the duo. This work prompts a conversation about Black liberation as a reality not yet fulfilled. By centering Black people within the narrative, BLACKMAU prompts the audience to imagine themselves in the spaces with the subject.
.
BLACKMAU, is the collaborative duo of Kamau "DJ KamauMau" Grantham, Psychologist and Stacey "Black Star" Robinson, Assistant Professor of Graphic Design who work for the University of Illinois at Urbana-Champaign. Both Grantham and Robinson have unique overlaps influenced by living in four of the same cities at pivotal times in Black culture where politics and aesthetics heavily guided both creators independently. Circa 2019 while examining these overlaps, they created a moniker and a practice that spoke to their obscure speculative imaginings that merged ideas of liberated Black futures, ideas of agency, sovereignty dystopia, and escape are explored through digital collage aesthetics, House Music, and animation.
---
Funding is generously provided by the TN Arts Commission Art Access Program, Arts & Culture Alliance, Knox County, the Department of the Treasury, Jerry's Artarama and UTK co-sponsorship from the Department of Africana Studies, Multicultural Student Life at the Frieson Black Cultural Center, the Office of Community Engagement and Outreach, UT Libraries, the School of Design, and the School of Art Programming Committee.