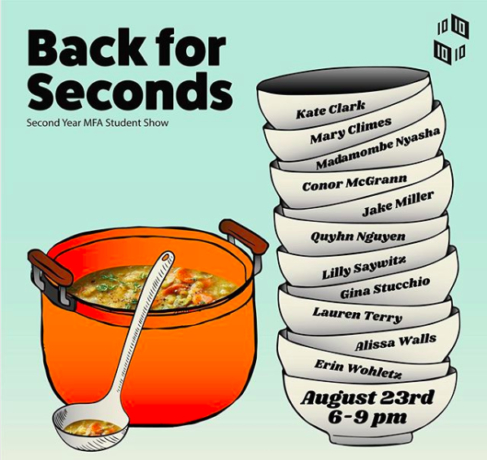 Exhibitions
BACK FOR SECONDS: SECOND YEAR MFA SHOW
Erin Wohletz, Conor McGrann, Mary Climes, Lauren Terry, Kate Clark, Alissa Walls, Gina Stucchio, Lilly Saywitz, Nguyen Duc Diem Quynh, Nyasha Madamombe, Jacob Miller
Back for Seconds, a show featuring work by 2nd year graduate students pursuing their Master's Degree in Fine Arts.
The exhibition will be available for view from 12–4 p.m. Friday through Sunday.
Artists include Erin Wohletz, Conor McGrann, Mary Climes, Lauren Terry, Kate Clark, Alissa Walls, Gina Stucchio, Lilly Saywitz, Nguyen Duc Diem Quynh, Nyasha Madamombe, and Jacob Miller.