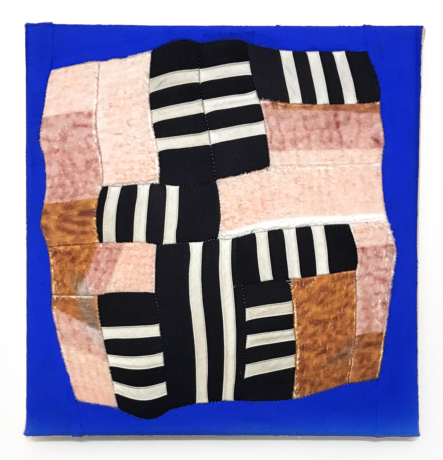 Exhibitions
ANNA BUCKNER: LOVE LETTERS
Anna Buckner
I made these six (not quite) quilts out of clothes that I've accumulated over the years from people I love. Most of them have probably forgotten that I have these particular articles of clothing and might not appreciate that I have cut them up. Hopefully they will forgive me. The articles of clothing are the subjects of the (not quite) love letters. The other materials are details specific to each person. A piece of a knitted blanket for comfort. A little paint. A beach towel. What remains consistent in all of these relationships is Wrightsville Beach, North Carolina and a house my great-great-grandfather built that looked a little bit like this (not quite) white barn.
BAD WATER presents Anna Buckner: LOVE LETTERS. On view February 1 through February 24, the opening reception will take place on Friday, February 1 from 6 to 9 p.m.
LOVE LETTERS is a conversation between not quite quilts and a not quite barn. The patterns of the wrapped, woven and pieced together quilt paintings respond to the multi-plywood walls in a play of grids, geometries and textures. Pulled over a support, the fabrics swell and warp, becoming re-embodied memories. In her piecework quilt paintings, Buckner explores the limits of existing structures and systems of logic. By studying grid patterns inherent within the natural world, painting, language, technology and textiles, Buckner aims to disrupt these systems to create space for new visual and poetic possibilities.
---
Anna Bucker (b. 1989 | Greensboro, NC) lives and works in Lansing, Michigan. She received her MFA from Indiana University, Bloomington. Buckner attended Design Inquiry in Vinalhaven, ME in 2018 and Unlisted Projects in Austin, TX in 2017. Recent exhibitions include Approximately (Indianapolis, IN), What the Water Does (Austin, TX), Restraint and Limitation (Lincoln, NE), Log Cabin (Lansing, MI), and Swatch (Ithaca, NY).
BAD WATER is an artist-run gallery set in a once vacant backyard structure located in Knoxville, Tennessee | behind 320 E. Churchwell Ave.