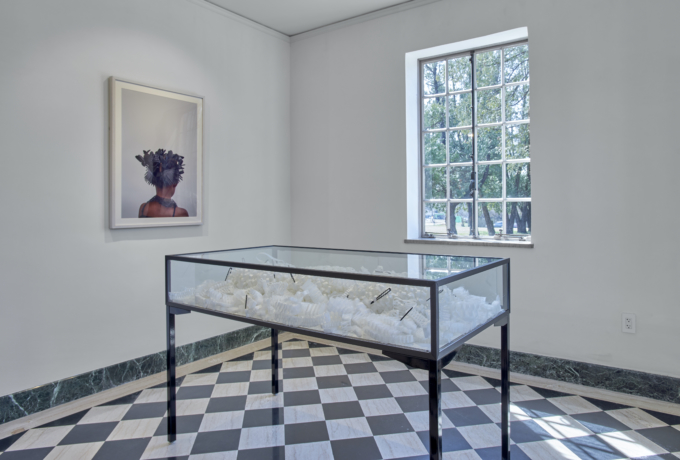 Exhibitions
ALTHEA MURPHY-PRICE
Althea Murphy-Price
Tri-Star Arts is pleased to announce the inaugural exhibition in their new gallery at the historic Candoro Marble Building. A solo show featuring works by artist Althea Murphy-Price (Knoxville, TN) will open on Tuesday, March 9, and run through Saturday, May 8, 2021. A closing reception will be held on the evening of Friday, May 7 from 5:00 pm until 9:00 pm.
Althea Murphy-Price uses deception, desire, and ornamentation to form questions on the topics of truth, fascination, and attraction - often using manufactured hair (both synthetic and human) to exercise its role as embellishment and as a signifier of racial identity. In this work, hair functions as both subject and material and represents both assimilation and individuality. This body of her work consists of a variety of approaches to printmaking and sculpture to create works that are inspired by surface and texture. Her lithographic work is made to capture the realistic appearance of hair while screen-printed elements suggest object-like forms. Most recently, Murphy-Price has created 3D printed forms suggestive of wearable hair accessories.
This exhibition will be open to the public, alongside iconic spaces within the Candoro Marble Building, regularly from Tuesday through Saturday, 11:00 am until 5:00 pm going forward. Masks and social distancing (6 feet apart) is required. The gallery occupancy is limited to a maximum of 10 persons at a time.
Built in 1923, the Candoro Marble Building originally served as the offices and showroom for the Candoro Marble Company. The Aslan Foundation has just completed a restoration of the building. In partnership with the Aslan Foundation, Tri-Star Arts oversees programming at the site.
Tri-Star Arts is now physically based at the Candoro Marble Building with its main office, gallery space, and artist studios. The gallery features exhibitions with a local, state-wide, and national focus on contemporary visual art. The historic Candoro Marble Building showcases a Charles Barber-designed Beaux-Arts architectural style, beautiful Tennessee pink marble, and an iconic tree-lined drive on its one-acre grounds. It is located at 4450 Candora Avenue, Knoxville, TN 37920.
---
About Althea Murphy-Price:

Althea Murphy-Price began her studies in Fine Art at Spelman College before receiving her Master of Arts in Printmaking and Painting from Purdue University, and later studying at the Tyler School of Art, Temple University where she earned her Master of Fine Arts. Murphy-Price maintains an active exhibiting practice. She has exhibited in venues throughout the country and abroad such as the Weston Gallery, Cincinnati, OH; Howard Museum of Art, Baltimore, MD; Wellesley College, Boston, MA; Wade Wilson Art Gallery, Houston, TX; Indiana University Art Museum; The Print Center, Philadelphia, PA; The Halsey Institute of Contemporary Art, Charleston, SC; and the Knoxville Museum of Art, Knoxville, TN. International exhibits include the International Printmaking Exhibition, Jingdezhen China; the American Youth Printmaking Exhibition, Lui Haisu Art Museum, Shanghai, China; and Print Resonance, Musashino Art University, Tokyo, Japan. In addition to her exhibition record, she has been an artist-in-residence at the Frank Lloyd Wright School; University of Hawaii, Hilo; the Vermont Studio Center; and the Venice Printmaking Studio. Her writings and work have been featured in such publications as Art Papers Magazine, CAA Reviews, Contemporary Impressions Journal, Art in Print, Printmaking: A Complete Guide to Materials and Process, and Printmakers Today.
About Tri-Star Arts:
Tri-Star Arts serves Tennessee by spotlighting and growing the contemporary visual art scenes in each region and fostering a unified state-wide art scene. Their programs promote art dialogue between the different cities in the state, and between the state and the nation. Their initiatives include regular state-wide exhibition projects, the Current Art Fund, a speaker series, the LocateArts.org web resource, the forthcoming Tennessee Triennial, and now their base of operations at the Candoro Marble Building with a new gallery exhibition space and artist studios.
About the Aslan Foundation:
The Aslan Foundation, established in 1994 by Lindsay Young, preserves beauty, advances livability, and supports cultural assets in the Knoxville area through three initiatives. The Aslan Foundation supports 501(c)(3) organizations that focus on arts and culture, animal welfare, land conservation, historic preservation, and advancing livability in Knoxville. The Aslan Foundation also has several of its own projects to serve the community. Current projects include High Ground Park, the Loghaven Artist Residency, and the Candoro Marble Building. Additionally, the Aslan Foundation partners with the City of Knoxville to conserve land, develop recreational facilities, and preserve historic sites in Knoxville's Urban Wilderness.