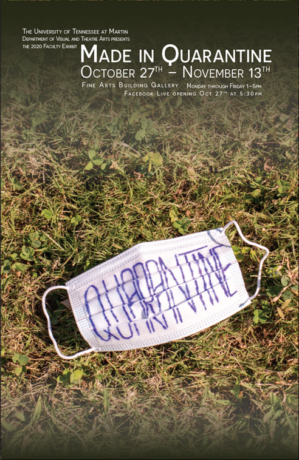 Exhibitions
MADE IN QUARANTINE
Sarah Haig, Lane Last, David McBeth, Donna McBeth, Jason Stout, Windy Wang, Michelle Williams
The bi-annual exhibit and virtual opening of the Visual Arts Faculty of UT Martin will begin Tuesday, October 27th and run through November 13th in the Fine Arts Building Gallery.
The exhibit will feature the works of Sarah Haig, Lane Last, David McBeth, Donna McBeth, Jason Stout, Windy Wang and Michelle Williams. There will be a Facebook Live virtual opening on Tuesday, October 27th starting at 5:30 where the artists will talk about creating work during this time of quarantining and Covid-19. The link to the opening can be found under Events on the Department of Visual & Theatre Arts Facebook page.
During the run of the exhibit, the gallery will be open Monday-Friday from 1:00-5:00 every week for viewing in person. Masks and other safety protocols are followed in the gallery.
Please join us at the virtual opening or come visit the gallery in person to see the latest outstanding creative endeavors of the VTA art faculty.