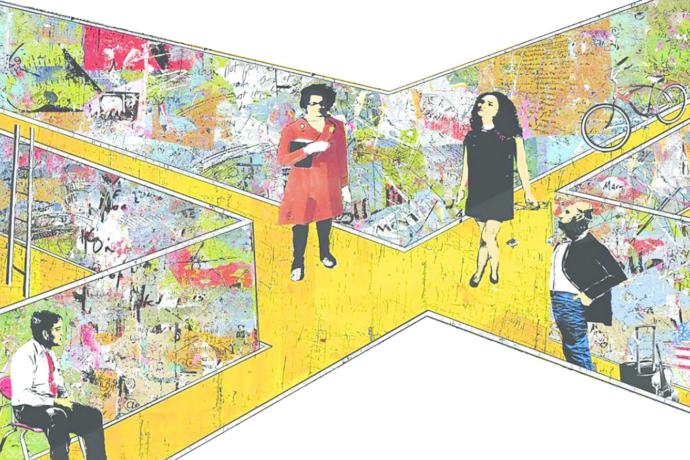 Exhibitions
DARYL THETFORD: THE STRUGGLE TO EVOLVE BEFORE THE END OF TIME
Daryl Thetford
Daryl Thetford is an artist working in photography-based digital media and collage. His work has been described as graphic, modern, pop, and contemporary, although what to actually call the process has been a larger source of debate; it has been called photo collage, digital art, and digital mixed media.
Thetford grew up on a hundred-acre farm in Bradford, Tennessee, a small town in the rural northwest corner of the state. His father was a forklift operator who worked in a warehouse, and his mother was a beautician. While they encouraged their son to pursue so-called "practical" avenues of work, they also recognized an early artistic bent, and enrolled him in oil painting lessons–which he loved–at age nine. Although he went on to obtain a graduate degree in counseling from Murray State University, and spent 15 years working as a vocational program director, mental health center manager, and a therapist, his creative juices never dried up. In 2001, when Thetford left mental health to return to his first love, art, he discovered that the psychology of behavior and emotion–everything he'd been studying and practicing for years–flowed neatly into his artistic process. The result is a compelling body of photo collage work that is informed by the richness of the psyche.
Thetford's work has been featured in exhibitions throughout the United States including SOFA Contemporary; ART Chicago; Art Dallas; artMRKT Contemporary and Modern Art Fair in San Francisco; the Alexandria Museum of Art (Louisiana); the Knoxville Museum of Art (Tennessee); the Mobile Museum of Art (Alabama); College of St Elizabeth in New Jersey; and Open Concept Gallery for the SMart Multimedia Festival (Grand Rapids, Michigan).