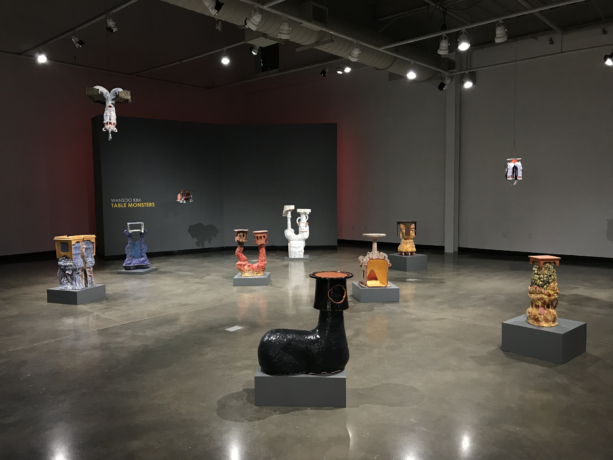 Exhibitions
WANSOO KIM: TABLE MONSTERS
Wansoo Kim
New works by APSU Art+Design faculty member Wansoo Kim. Kim was born and raised in South Korea where he received his BFA in Ceramics from Seoul National University of Science and Technology. He earned an MFA in Studio Art from the University of Nebraska – Lincoln in 2018. Before his arrival at Austin Peay State University, he participated in an Artist-In-Residence program at Belger Crane Yard Studios in Kansas City. Since moving to the United States in 2013, he has shown his works regularly in national and international exhibitions. This new series of works, Table Monsters, is an assemblage of recognizable and unidentifiable elements, intended to evoke an environment where realism and surrealism coexist. Through both distant interactions with the works and personal closer examination, the viewer's accessibility to the space and experience is restricted. By creating this experience for the viewer, Kim proposes to question our perceptions, our beliefs, our ignorance, and our awareness.
Reception/Gallery Talk: Oct. 7, noon – 1:30p, Gallery Talk begins at 12:15 p.m. @ TNG
First Thursday Art Walk: Oct. 7, 5:00 – 7:30 @ TNG
Artist Lecture: Oct. 7, 6:00 p.m. @ Sundquist E106 A/B. Livestream link
For more information on this exhibition, contact Michael Dickins, gallery director, at dickinsm@apsu.edu.