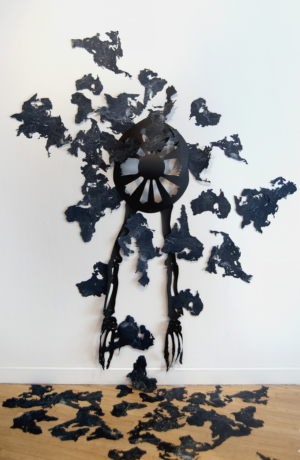 Exhibitions
PATRICK VINCENT: VANISHING ISLANDS
Patrick Vincent
The New Gallery, with support from The Center of Excellence for the Creative Arts and the Department of Art + Design, is pleased to present Patrick Vincent: Vanishing Islands to continue an exciting 2018-19 exhibition season.
Vincent is a printmaker that engages print as both two-dimensional and three-dimensional works to magnify the immersive effect of the graphic image. His installations engage viewers and participants to negotiate surface and form through graphic media. His work uses print and print-based structures to explore myth and narrative in graphic traditions, mixing traditional and contemporary animal-human iconography to survey contemporary social and ecological issues.
"This is the second exhibition this season that features one of our own," states Michael Dickins, Director of The New Gallery. "Patrick joined the faculty in 2016 as an Assistant Professor of Printmaking, and in an ongoing tradition with the department of Art + Design, newer studio faculty members are given the opportunity to exhibit the work that they have been creating since arriving at APSU. It is a great opportunity for students and community to view/experience the research of our faculty. Patrick is an incredible craftsman, draftsman and storyteller. This is not your typical printmaking exhibition of framed prints; Patrick is an installation artist whose prints and paperwork protrude from the walls and into the viewers space."
From the exhibition essay, written by Nashville based arts writer, Laura Hutson Hunter:
The work in Vanishing Islands, Vincent says, is "conceptually tied to the idea of a turtle as symbol for the world falling apart."
"It's kind of imagining the myth that the world sits on the top of a turtle's back. But if you took away the interior of the turtle and left the skeletal frame of the turtle's shell, and then left these human hands dangling down, it's a commentary on ecological collapse and human industry changing the world."
If it sounds like Vincent is pessimistic about the planet's future, that's not entirely true.
"If I didn't think there was something that could be changed," he says, "there'd be no point in even making this work to begin with. Besides, my entire worldview is wrapped in a certain level of pragmatic optimism because I chose to be a teacher."
---
Patrick Vincent is from Minneapolis, Minnesota. He received his B.F.A. from the University of Minnesota, Twin Cities, and his M.F.A. from Arizona State University. He has worked for the design/letterpress workspace Studio on Fire, the Minnesota Center for Book Arts, and Pyracantha Press. With this foundation in books, printmaking, and design, Patrick creates original works of art as well as collaborates with individuals through print media.
The exhibit opens Monday, January 14 at The New Gallery, located in the Art + Design building on the campus of Austin Peay State University, and runs through February 8. Vincent will be giving a public lecture on his work, February 5 at 6:00 p.m. in Heydel Hall located in the Art + Design building. There will be a reception the following day from 12 – 1:00p, with a gallery talk with Vincent beginning at 12:30. All events are free and open to the public.
For more on Patrick Vincent and his work, visit: www.twinbeepress.com.
Hours for The New Gallery are Monday – Friday, 9 a.m. – 4 p.m. Closed on weekends and holidays, and follows the university's academic calendar. For more information on this exhibition, which is free and open to the public, contact Michael Dickins, Director of The New Gallery, at dickinsm@apsu.edu.