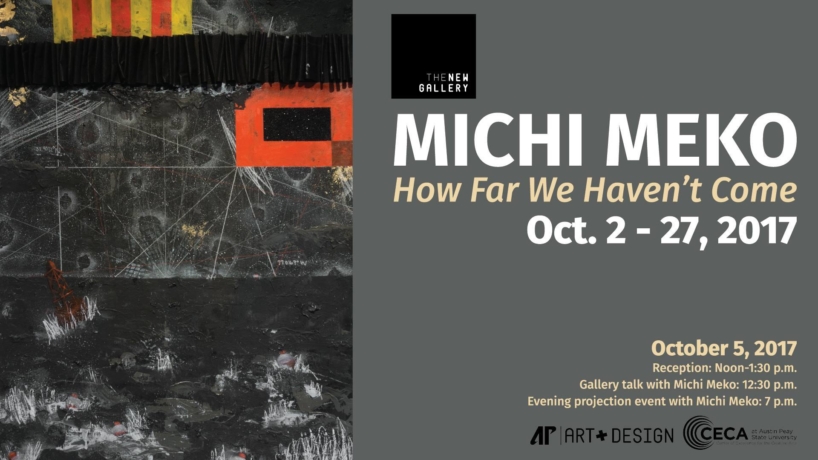 Exhibitions
MICHI MEKO: HOW FAR WE HAVEN'T COME
Michi Meko
The New Gallery, with support from The Center of Excellence for the Creative Arts and the Department of Art + Design, is pleased to present Michi Meko: How Far We Haven't Come, to continue an exciting 2017-18 exhibition season.
At The New Gallery at Austin Peay State University, I am still thinking about space, but am shifting gears with the second exhibition of the season - Michi Meko: How Far We Haven't Come. Unlike the Jamey Grimes exhibition, this work is not a celebration of space, but an investigation of space by asking, "How do you exist in public space when public space is a threat?"

According to Dr. Anthony Morris, Associate Professor of Art History for Austin Peay State Unviversity, "Michi's work is an attempt to find a place for himself as a black man in 21st century American culture. He often uses the iconography of water, exploration, mapping, and found objects in his work to express a loss of trust, safety, and independence in a world that perceives him as a threat, a criminal, and identifies him first by his race and not his humanity."
The exhibit opens October 2 at The New Gallery, located in the Art + Design building on the campus of Austin Peay State University, and runs through October 27. There will be a reception on October 5 beginning at noon, and a gallery talk with Michi beginning at 12:30pm. Beginning at 7:30 p.m., Michi will project select films and video onto the exterior of The New Gallery as part of Clarksville's First Thursday Art Crawl. All are welcome.