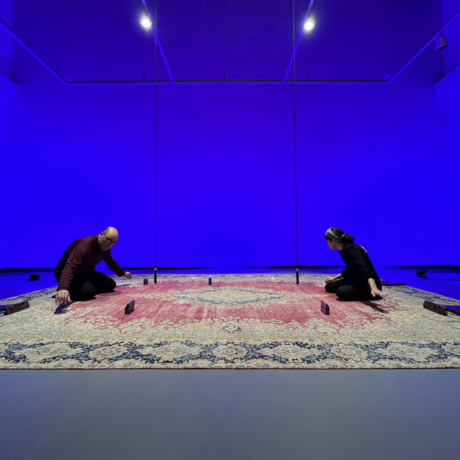 Exhibitions
LISTENING: THE FOURTH STRING
Raheleh Filsoofi, Reza Filsoofi
Inspired by the life and work of Moshtagh Ali Shah in the 18th century, this collaborative effort between ceramicist and visual artist Raheleh T. Filsoofi and musician Reza Filsoofi consists of a series of interactive multimedia installations and public performances.
In The New Gallery, visitors will be invited to sit and play a large 16-foot-by-20-foot instrument while being "watched" by Iranian musicians from a bank of large video screens.
Then visitors can then make their way upstairs to the Barbara Beach Gallery to learn how to play the setar with video instruction by Reza Filsoofi. It's an interactive exhibit that encourages the community to play and learn.
Several events accompany the exhibition:
- A gallery talk and performance by Raheleh and Reza Filsoofi at 12:30 p.m. on Feb. 24 in The New Gallery.
- Raheleh Filsoofi will present an artist lecture on her work and creative practice at 6 p.m. on Feb. 24 in Room 106 A/B of the Sundquist Science Complex. This event is in person, but will also be live-streamed, courtesy of CECA. Registration for the live-streaming event can be found here: https://bit.ly/FilsoofiTNG
- A performance by Reza Filsoofi and Michael Hix will take place at noon on March 3 in The New Gallery.
- This exhibition will be open during Clarksville's First Thursday Art Walk from 5-7:30 p.m. on March 3.
- A large Nowruz (Iranian New Year) Celebration will take place at 5 p.m. on Saturday, March 19, in the Art + Design building. This event will include Iranian food and a musical performance by Reza Filsoofi, Raheleh Filsoofi, Charlie Gilbert, and Carlos Duran.
All events are free and open to the public.