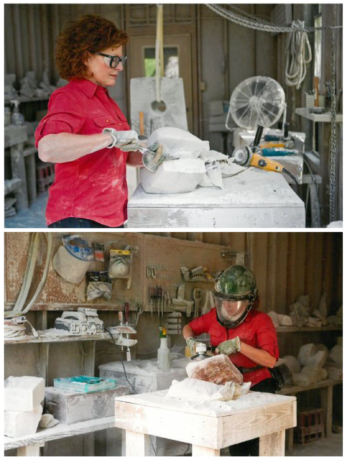 Exhibitions
VERINA BAXTER
Verina Baxter
The Hunter Museum is pleased to present an exhibition of sculptures and paintings by Chattanooga artist Verina Baxter (1950-2015). Featuring works from more than twenty years of Baxter's artistic career, the exhibition will include some of her earlier figurative sculptures as well as her Rods, Industrial, and Table series. Baxter also experimented with colorful abstractions, many of which will be exhibited alongside her sculptural pieces. The exhibition opens to the public on Friday, December 2, 2016.
Born and raised in East Ridge, Ms. Baxter drew inspiration for her work from many interests, including reading, gardening, and travel. The natural forms apparent in her pieces correspond with her avid gardening. Initially only using metal as support or embellishment for her stone pieces, Ms. Baxter became more and more intrigued by the process of turning metal. The attention to detail, to achieving a particular machined finish is especially obvious in the precision of her Industrial series.
Compelled in the early 1990s to change careers from banking to art after taking a class in stone carving at Arrowmont School in Gatlinburg, Ms. Baxter originally worked with different types of stone including alabaster and marble. She then began working in metals, such as bronze and stainless steel, and dedicated herself to sculpting full time in her 40s.
In addition to her work as an artist, Ms. Baxter played a major role within the local arts community. She supported many art organizations and devoted an enormous amount of her time and knowledge to the Mid-South Sculpture Alliance.
"Verina was incredibly talented, and her stone carving and metal work combinations are unique and stunning," noted Hunter Museum Executive Director Virginia Anne Sharber. "It is an honor to showcase the art of native daughter Verina Baxter in the community where she lived and worked."
General admission to the Hunter Museum, including this special exhibition, is $15 for adults and free for youth 17 and under. As always, members are admitted free. To learn more about membership, visit www.huntermuseum.org/memberships.