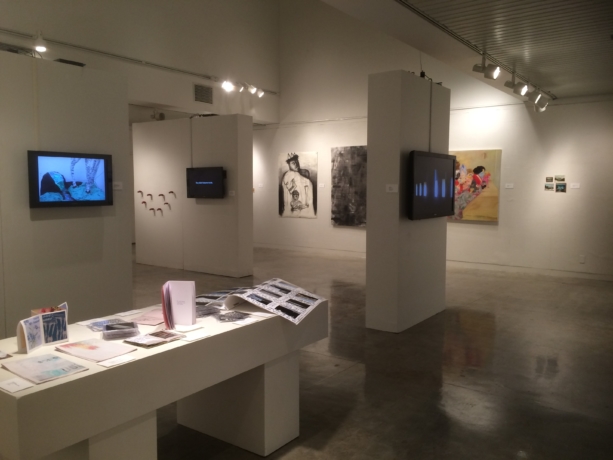 Exhibitions
UTC DEPARTMENT OF ART 2018 JURIED STUDENT EXHIBITION
The Cress has opened its doors on the 2018 UTC Department of Art Juried Student Exhibition, an exhibition of exuberance and ambitious scale in a diversity of media that will draw you in and hold your interest for as much time you can allow.
Melissa Vandenberg, artist and Associate Professor of Art at Eastern Kentucky University, served as this year's Juror. Vandenberg selected 46 works from 126 submitted by the Department's majors from Foundations/Pre-Art, Bachelor of Art / Studio, Bachelor of Art / Art History, Bachelor of Science Art Education, and the Bachelor of Fine Art concentration areas Graphic Design, Painting & Drawing, Photo + Media Art, and Sculpture. All work submitted was created within the curricula of the UTC Department of Art.
"Unmistakable in this exhibition is your collective concern for the welfare of the body and a deep empathy," Vandenberg addresses the students in her Juror's Statement, "and evidence of your humanity, which gives me a great deal of optimism in these divisive times."
"The job of the juror is not only to seek out what they believe to be the "best" work, but also to discover any common threads that might bind together an exhibition….knowing there is not enough space for every worthy piece. This exhibition is no exception as some good work was edited. Nevertheless, what remains hopefully represents not only your program, but also a reflection of the frame of mind of current young artists."
Juror's Public Lecture: Tuesday January 23, 5:30pm, Benwood Auditorium, 230 EMCS Bldg. directly across Vine Street from the UTC Fine Art Center; followed by the public exhibition reception and awards ceremony 6:30pm in the lobby of the UTC Fine Art Center.