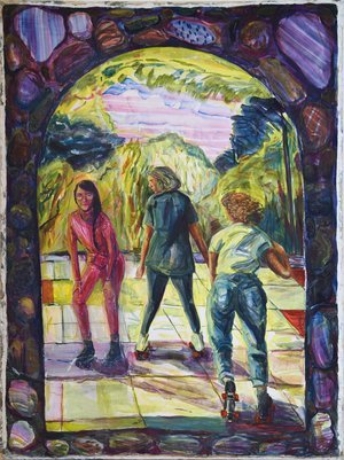 Exhibitions
TOGETHER IS BETTER
Adam Forrester, Amanda Lechner, Ana Meza, Anne Herbert, Bradley Marshall, C.C. Calloway, Daniel Luedtke, Deepanjan Mukhopadhyay, Devin Balara, Gyun Hur, Kate Robinson, Liz Miller, Mandy Cano Villalobos, McLean Fahnestock, Sean Fader, Zack Rafuls, Mika Agari, Natalie Baxter, Tom Beale, Kris Bespalec, C.C. Calloway, Mandy Cano Villalobos, April Childers, Sean Clark, David Court & Carolyn Lambert, Douglas Degges, Katherine Dirscoll, McLean Fahnestock, Adam Forrester, Rose Harding, Anne Herbert, Tristan Higginbotham, Gyun Hur, io, Sonya Yong James, Klypi, Amanda Lechner, Stephanie Loggans, Daniel Luedtke, Laura McAdams, Mitch Miller, Peyton Peyton, Zack Rafuls, Ryder Richards, Kate Robinson, Victoria Sauer, Tom Scicluna, Allison Spence, Terry Thacker, Siebren Versteeg, Masha Vlasova, Brian Zimmerman, Ron Buffington, Angela Dittmar, Matthew Dutton, Jessi Hamilton, Jodi Hays, Libby Michael, Kirby Miles, Raquel Mullins, Jon Newman, Erica Scoggins, Christy Singleton, Saria Smith, Will Sutton
TOGETHER IS BETTER
WORKS FROM RESIDENTS '21
Curated by Katie Hargrave and Christina Renfer Vogel
A residency offers an artist the rare opportunity to step away from their everyday routines and devote themselves fully to their artistic practice. In the past year, over 60 artists came together to make work at Stove Works, among them those who call Chattanooga home and many first-time visitors. Whether they pursued solo projects or closely collaborated in their studios, the residents were temporary neighbors. They worked alongside each other, shared ideas and meals, and forged lasting bonds.

As artists who have attended residencies ourselves, we know how transformational they can be. Residencies offer artists a chance to pause, think deeply, explore new directions, or push current projects forward.
Beyond offering the generous gift of time and space for artists to create, Stove Works is special for their commitment to community––both in how they foster fellowship amongst residents and in how they engage Chattanooga. In curating this exhibition, we sought to honor this ethos. We are excited by the great diversity of work made by Stove Works' inaugural residents and the unexpected connections that have emerged. We hope this exhibition not only serves as a celebration of the extraordinary resident artists but also helps to demonstrate how working together is better, in art and community.
SPECIAL NOTE: ALL WORKS ARE FOR SALE! This exhibition is part of our year end fundraiser and will be the only time when works my be purchased directly from Stove Works. All funds go to support Stove Works Programming and participating artists.