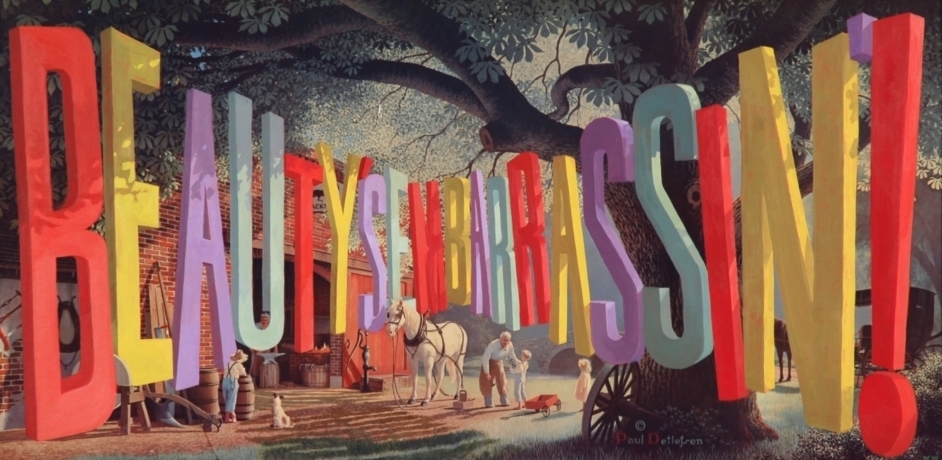 Exhibitions
​THRILL AFTER THRILL: THIRTY YEARS OF WAYNE WHITE
Wayne White
The Hunter Museum is pleased to present a solo exhibit by Chattanooga native Wayne White, whose work is inspired by wit and ingenuity and draws on his memories of growing up in the South. The exhibition, opening Friday, June 30, 2017, will delve into White's "Word" paintings, cardboard, wood and bronze sculptures, larger than life puppets, and sketches created throughout his career.

Wayne White built his impressive career on both coasts, working first as an illustrator for print publications in New York then as a set designer for television shows and music videos in Hollywood. After creating illustrations for the East Village Eye, The New York Times, Raw Magazine, and The Village Voice, White joined the team working on Pee Wee's Playhouse. As the program shifted to California, so did White, and the move led to further work in broadcast television, as well as three Emmy awards for his work on Pee Wee's Playhouse. He also created the sets for Beakman's World, and was art director for music videos of hit pop songs including The Smashing Pumpkins' "Tonight, Tonight" and Peter Gabriel's "Big Time."
The Hunter's exhibition is the culmination of a yearlong focus on Wayne White in Chattanooga, which began with Wayne-O-Rama, a large scale, immersive art installation and experience in Chattanooga's Southside. This ambitious project brought together White's clever wit with his impressive design and building skills and is on view through September. Maquettes related to Wayne-O-Rama will be part of the Hunter exhibition.
White has a Bachelor of Fine Arts from MTSU, and has had numerous solo exhibitions around the country. His work is included in such collections as The Detroit Institute of the Arts, the Frederick R. Weisman Art Foundation, Los Angeles, and the New Museum of Contemporary Art, New York. In 2012, Beauty is Embarrassing, a documentary on Wayne White's life, premiered in Austin. It has aired nationwide on PBS and is currently available from Netflix.
---
image: Wayne White (b. 1957), Beauty is Embarrassin'!, 2006, 27 x 50 inches, Collection: Greg Salmeri, Los Angeles, CA