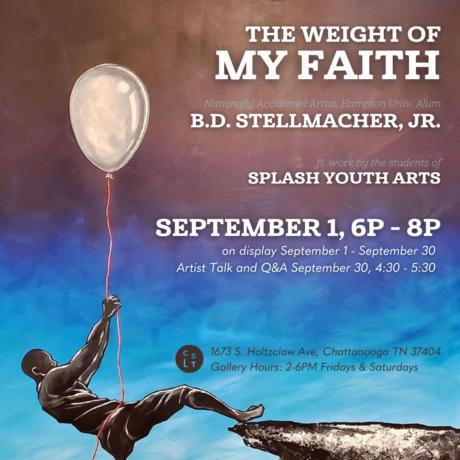 Exhibitions
B.D. STELLMACHER JR., FT. SPLASH YOUTH ARTS: THE WEIGHT OF MY FAITH
B.D. Stellmacher, Jr.
Join us for the opening reception of The Weight of My Faith, by nationally acclaimed artist Benford Stellmacher, featuring works by the artists of SPLASH Youth Arts.
"The weight of my faith is a visual embodiment of spiritual principles that echo the voice of "Faith without works is dead."
"You can tell me what you believe until you are blue in the face. However, we are all familiar with the term that actions speak louder than words. The dream in your heart will stay there until you take the necessary measures to make it a reality. It is through this aesthetic narrative of Conversations that I hope to inspire you to take one step forward towards that dream without fear or hesitation. You are equipped by your divine design to accomplish what has already been predestined for your life."
The show will be on display from September 1 - 30. A percentage of proceeds will be going toward SPLASH Youth Arts and the Hampton University Alumni Chattanooga Chapter.