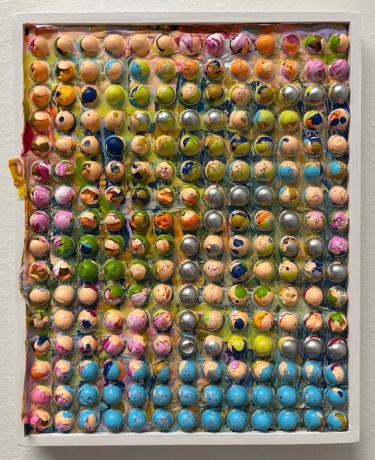 Exhibitions
TEXTHER
Natalie Harrison, Amanda Brown, Sue Fox
Channel To Channel is pleased to present, TextHER, an exhibition focusing on 3 female artists utilizing texture as a main component of their artwork.
Natalie Harrison creates three dimensional forms that can be construed as painting and sculpture. Centering around ideas of beads, lace, and floral forms, Harrison creates bulbous bodies of acrylic within wood panels.
Amanda Joy Brown brings a more representational approach to the exhibition by creating landscape paintings that offer a textured and patterned 'screen' that obscures and accentuates, reduces and embellishes.
Sue Fox creates textured collage pieces rich in color from magazine clippings then adhered like a puzzle with no overlapping, creating a consistent, flat matte color effusion that dissipates paper edges and tricks the eye into an optical illusion.
Opening Saturday May 14. 6-9PM. Exhibition runs through May 28. Gallery open Saturday from 12-6 & by appointment.