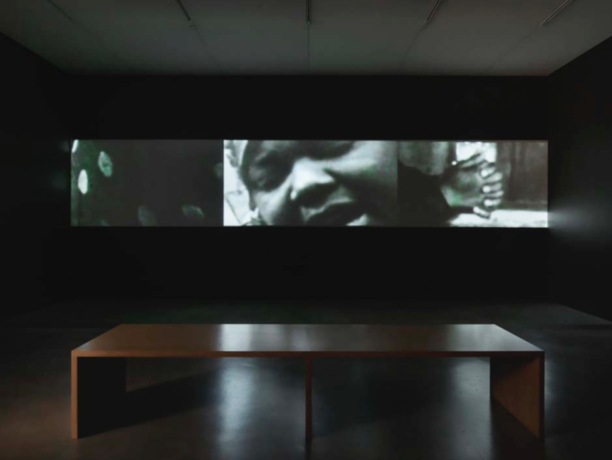 Exhibitions
TERRY ADKINS: MUTE
Terry Adkins, Bessie Smith
In Mute, the frame lingers on blues singer Bessie Smith's polka-dotted dress, mournful face, and wringing hands as she sings a tune we cannot hear. Terry Adkins (American, 1953-2014) cropped these three shots from St. Louis Blues, a 1929 film that contains the only known footage of the esteemed songstress. Much of the film centers around Smith's expressive rendition of "St. Louis Blues," which she sings after her unfaithful partner leaves her for another woman. Here, however, Adkins has removed the sound, focusing instead on the emotional intensity of Smith's body language. Adkins conceived Mute in the form of a triptych, a type of three-part artwork often placed on church altars.
Adkins admired Smith (American, 1894–1937) for her lasting influence on blues and jazz music. He was disappointed by the lack of public monuments to the singer in Philadelphia, where she lived for nearly two decades. In order to help recover her legacy, Adkins dedicated two recitals to Smith and employed Mute in performances.
On loan courtesy The Estate of Terry Adkins, Lévy Gorvy, New York.
This presentation is accompanied by a special presentation of Bessie Smith archival materials courtesy UTC Special Collections.