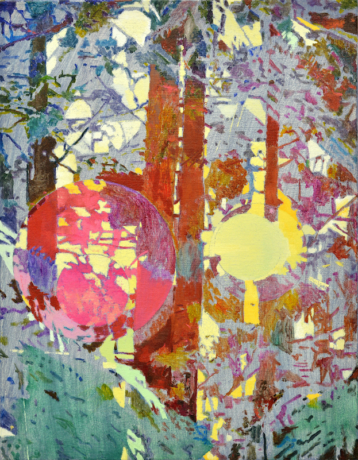 Exhibitions
HEATHER HARTMAN + JERED SPRECHER: SUSPENDED LIGHT
Heather Hartman, Jered Sprecher
Suspended Light, a two-person exhibition featuring new work by Heather Hartman and Jered Sprecher opens Saturday November 12, 2022. The exhibition features Hartman's mixed media paintings and Sprecher's recent paintings that use trees and flowers as a recurring theme.
Both artists, working and living in Knoxville, Tennessee, are inspired by organic, natural forms. Their works of art explore the complexity of the environment and the way humanity interacts with the world, both directly and through technology.
In Heather Hartman's work, cyclical shifts of light, atmosphere, and plant life expose the transitory nature of reality. Her paintings are composites built from fragmentary records of experience, and often hover on the edge between representation and abstraction. Through imagery sourced from photographic references and observation of the natural world, Hartman's work grapples with questions of ecology and mutability. Her complexly layered materials push and pull our focus, making us aware of the limitations of perception and the precarious nature of sublime beauty.
Jered Sprecher explores how we as humans use technology to capture images and document the complexity of the world around us. He hunts and gathers images from nature and uses layers of technology to further abstract the imagery in each painting. His images of flowers, trees, and plants are interrupted with reflections, lens flares, or digital artifacts that filter and warp reality, exploring the space where the tangible and intangible aspects of our life meet with the natural ecosystems.