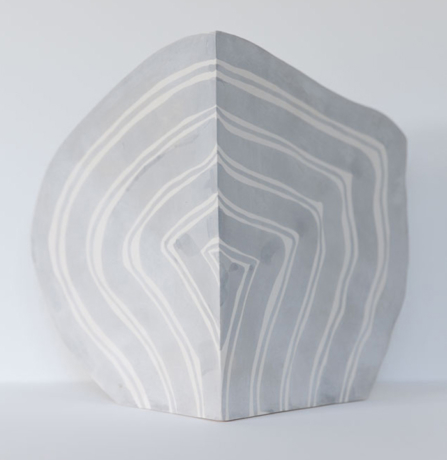 Exhibitions
STRANGE-MAKING
Eleanor Aldrich
David Onri Anderson
Amy Pleasant
"Strange-Making" is a regional group exhibition curated by Mirel Crumb. A selection of works from Eleanor Aldrich, David Onri Anderson, and Amy Pleasant will be on view during the reception from 5pm-8pm on Thursday, March 22nd, and during open gallery hours March 23rd and 24th from 11am-7pm and March 25th from 12pm-4pm.

This trio exhibition was curated around the concept of defamiliarization, Viktor Shklovsky's term "ostranenie," the technique of describing something familiar in a way that makes it appear unknown. Often used in riddles, this technique is employed to draw attention to absurdity that has become overlooked. This arrangement of paintings and sculptural works invites the viewer to question their recognition and empathy for human form.
---
Eleanor Aldrich was born in Springerville, Arizona. A participant at the Skowhegan School of Painting and Sculpture in Maine, she also holds an MFA in Painting & Drawing from the University of Tennessee, Knoxville, where she currently lives. She earned her BFA in Painting & Drawing through the Academie Minerva (Groningen, the Netherlands) and Northern Arizona University, Flagstaff. She was a participant in the Drawing Center's first Open Sessions.
David Onri Anderson is a Nashville-based artist who received his BFA as well as the Anny Gowa Purchase Award from Watkins College of Art in Nashville, TN. He has exhibited nationally, including shows at ZieherSmith in New York, the Atlanta Contemporary Arts Center, and Zeitgeist Gallery in Nashville. His work is collected nationally and internationally. In addition to his work as an artist, Anderson is co-director/curator of Mild Climate, and ran art-space Bijan Ferdowsi from 2016-2017 in the Wedgewood-Houston neighborhood.
Amy Pleasant received a BFA from the School of the Art Institute of Chicago and an MFA from the Tyler School of Art, Temple University. She was a recipient of The Joan Mitchell Foundation Painters and Sculptors Award for 2015. Amy Pleasant currently lives and works in Birmingham, Alabama and is represented by Jeff Bailey Gallery, Hudson, New York and whitespace gallery, Atlanta, Georgia. She co-founded the curatorial initiative The Fuel And Lumber Company with artist Pete Schulte in 2013.
Mirel Crumb is an aspiring curator and graduating honors student in UTC's BFA Painting and Drawing program. She has exhibited work as a Lillian B. Feinstein Scholarship recipient at UTC and participated in an invitational at AVA gallery in November 2016 titled "verēənt." She has worked as a Gallery Assistant at the Cress Gallery of Art since 2015. In 2017, she was a co-writer for an ArtsBuild Community Cultural Connections Grant for a neighborhood art fair, The St. Elmo Incline Crawl.
This exhibition is free and open to the public.
---
image: Amy Pleasant, Head #11