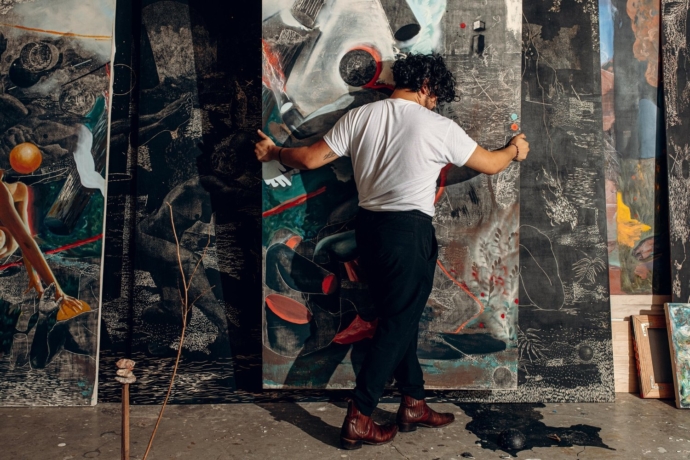 Exhibitions
SERGIO SUAREZ: PROCEDURES TO EASE THE FALL
Sergio Suárez
Procedures to ease the fall is an exhibition that brings together woodblock carvings, sculptural ceramics, and video installation as an exploration of the forces that shape cosmogony. Synthesizing seemingly contradictory past and present codes of visual representation such as baroque painting, Mesoamerican material culture, and telescope imagery, the work evokes a metaphysical gathering site. Oscillating between empirical observation, material experimentation, poetic and esoteric approaches of making, the exhibition poses questions such as: How is matter altered or transmuted? How can we create vessels that preserve a fragment of time? Why do we have the notion time erodes when it simultaneously turns dust into stone?
About the Artist - Sergio Suárez (B.1995) is a Mexican-born, Atlanta-based visual artist and printmaker.
He graduated Ernest G Welch School of Art and Design in 2021, and he attended the Skowhegan School of Painting and Sculpture in 2023. His practice, prompted by an interest in translation, uses different traditions of making to construct a visual language concerned with syncretism, temporality, and porosity. His work has been shown around Atlanta, in spaces like Whitespace Gallery, Day & Night Projects, THE END Project Space, ShowerHaus Gallery, the Consulate General of Mexico in Atlanta, Take it Easy Gallery, and the Atlanta Contemporary. Internationally his work has been included in several group ex-hibitions such as the Woolwich Contemporary Print Fair in London, the Haugesund Internasjonal Relief Festival in Norway, OPED Space in Tokyo, and the Ionian Arts Center in Greece; where he was an artist in residency in 2017 and 18. His work is also included in the SGCI archives of the Zuckerman Museum. He lives and works in Atlanta Georgia, where he was part of the Studio Artist Program at Atlanta Contemporary from 2021 to 2023. Currently he is trying to figure it out, seeking a balance between, life, work and being the Co-director of Eso Tilin Projects. Upcoming shows include In Unity as in Division at Johnson Lowe Gallery in Atlanta. He is set to be a studio resident at MASSMoca for the month of November. He has two cats.