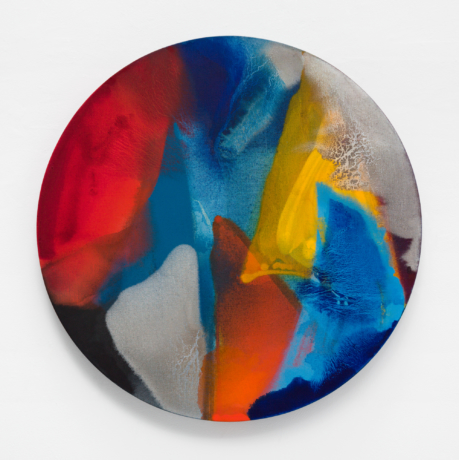 Exhibitions
ELEANOR ALDRICH & PAMELA JORDEN: SEE/SAW
Eleanor Aldrich, Pamela Jorden
See/Saw, a two-person exhibition featuring the work of Eleanor Aldrich and Pamela Jorden opens Saturday August 13. The exhibition will feature Jorden's quintessential round paintings as well as a new body of work from Aldrich.
The two artists first became acquainted in 2011 while Jorden was teaching at University of Tennessee in Knoxville and Aldrich was her teaching assistant. This exhibition will bring the two artists together for the first time since first meeting at UT.
Jorden often refers to landscape and qualities of light in her work, associating the exposed areas of linen with the color and texture of the sandy soil of Southern California, where she resides. Fluid and organic, the result is a dynamic surface of shifting focus, conveying the immediacy of granular detail and the vastness of geologic time.
Aldrich's new body of work utilizes a centralized, circular image of female characters engaging in household tasks. Emanating from these images are rays of color that mimic an effect found in Apple's PhotoBooth. The viewer is left to determine whether the rays are contracting in on or expanding away from the figure.
Opening Reception: Saturday August 13. 4-7pm. On-view through September 3.
COMING SOON: Samuel Dunson Reconstruction - Opening Saturday September 10