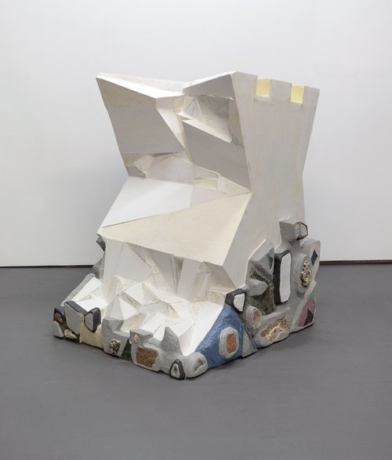 Exhibitions
SARAH TORTORA & MIKE HOLSOMBACK
Mike Holsomback, Sarah Tortora
MIKE HOLSOMBACK
ARTIST STATEMENT:
Visual Mythology in the 21st Century
The painting is not a mirror! It does not simply reflect my thoughts and emotions, my world, or my culture. It may parallel those realities. It may have some organic relationship with those realities but it exists in a form that has been born separate from those realities. It exists in a form that cannot be re-created or even properly described in another media. The good news is that the painting has a life of its own. But what is it saying?
I construct with a varied vocabulary of abstraction and representation, of changing styles and techniques. The imagery is discovered and replaced and often reborn. Images come like flashes and are thrown into a new world of color, mark and surface, without full regard to their narrative implications. These stories are born of process and mood and the process gives birth to layers of association and inference, which then gives rise to narrative interpretations. The works are always narrative, inherently narrative in nature. But what is the storytelling us?
So the painting is a visual myth, but to what end? It is a story which I initiate, but do not fully own. The characters which I have provided a stage for, are not under my control. I have given up control over these narratives. Any revelation is born during the process and lives in the work. The works are fragmented and ever-changing. The myth odd and incomplete it would seem. Any search for universal truth seems a hopeless enterprise in this age. But the good news is that the painting still has a life of its own, and if we listen closely, maybe it does have something important to say!
BIO:
Mike Holsomback is a well-known artist and art department faculty member at Chattanooga State Community College in Chattanooga, Tennessee.
Holsomback has a considerable regional and national exhibition record. His work has been selected for exhibitions in such venues as the San Diego Art Institute, the University of Mobile, the Stage Gallery in Merrick, New York, the Huntsville Museum of Art in Huntsville, Alabama, Nassau College in Nassau, New York, and Belmont University, Nashville, Tennessee.
His paintings and collages are found in the holdings of numerous private, corporate, and government collections, including most notably, the corporate law offices of King and Spalding of Atlanta, GA, and the Park Avenue offices of Dr. Jacqueline Dryfoos of New York, NY.
Website - www.mikeholsomback.com
Instagram - @studioholsomback
---
SARAH TORTORA
ARTIST STATEMENT:
I create sculptural works that mime conventions of canonical sculpture, urban infrastructure, & museological display. These hand-wrought amalgams reference ancient mythologies but operate parallel to language. As objects, they elude classification and perpetually oscillate between physical relationality and misidentification. My work frequently incorporates the imagistic potential of sculpture, by acting on an innate bodily alignment with "fronts" and "backs." These prop-like sculptures become sites for projection: as facsimiles of archetypal objects, impostors of icons, or signs that communicate the structure of their presentation. The resolute awkwardness of these sculptures (the Classical rendered as DIY theater-prop) inspires the psychic displacement necessary to comprehend the cultural displacement they induce. My work accepts the premise that every equestrian monument is truly a Trojan horse, and questions the anthropocentric privilege inherent in notions of the "archival" or "ephemeral" to describe the life cycle of artworks within the vast scale of geological time.
BIO:
Sarah Tortora (b. 1988, New Haven, CT) is a visual artist based in New York City whose work merges and questions conventions of canonical sculpture, urban infrastructure, & museological display. Recent exhibitions of Tortora's work have been featured at Ulterior Gallery (New York); NADA x Foreland (Catskill, NY); Tiger Strikes Asteroid (New York and Los Angeles), and C. Grimaldis Gallery (Baltimore). Sarah has been an artist in residence at the Skowhegan School of Painting and Sculpture, the MacDowell Colony, Yaddo, and Ox-Bow School of Art, among others. She was the 2015-2016 Alice C. Cole '42 Fellow in Studio Art at Wellesley College, and is currently a shop manager at the Columbia University School of the Arts.
Website - www.sarahtortora.com
---
image: Sarah Tortora, Acropalypse, 2019