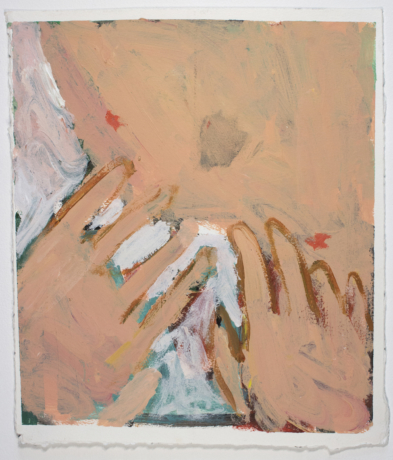 Exhibitions
SARAH D'AMBROSIO
Sarah D'Ambrosio
University of Tennessee at Chattanooga Associate Professor of Painting and Drawing Christina Vogel is pleased to present recent work by Sarah D'Ambrosio at Office Space.
---
Bio
Sarah D'Ambrosio was born and raised in Brooklyn, New York. She earned her BFA in painting at Brooklyn College in 2010. She continued her studies at The Mount Gretna School of Art in Pennsylvania and earned her MFA at the University of New Hampshire in 2015. D'Ambrosio has recently participated in exhibitions at The Living Gallery Outpost (New York, New York) and Treasure Town (Brooklyn, New York). She currently lives and works in Philadelphia.
Artist Statement
I am endlessly fascinated by the figure and how to solve the visual problem that human beings create when they are placed inside of a rectangle. I am most interested in the ability to see meaningful patterns and connections between form and content. The figures that are engaged in close range physical activities emphasize a type of clustering that breaks down relationships of figure and ground. As I experience the human figure, the paint manifests itself as a perceived truth of that form. Paint and its inherent flesh like qualities are crucial to the idea of form in my work. Slathering on patches of flesh-toned pigments is closely linked to my physical interaction with the human body itself, meaning the work is a sort of intense haptic memory, filtering itself most sincerely through an abstract language. I want to use that tactile quality to deconstruct a figure ground relationship in hopes that the image may operate through an effective coordination of its parts, where one form takes advantage of another and parts merge to complete a visual thought. Ultimately, I want to develop small worlds made up from fragments of reality, which disintegrate on any logical level as soon as they exit the picture plane, therefore unable to exist beyond the point of the painting itself. This is so that I can attempt to make images that can only be held together by a physical paint language and nothing else.
---
Directly informed by Dannielle Tegeder's Faculty Office project, through this initiative, Vogel invites artists to show their work in her UTC faculty office to create new opportunities to engage with contemporary art. It is in the spirit of connecting with artists from beyond of our region, with the aim to bolster our artistic community by building new relationships, that this project has been developed.
Office Space is located on the campus of the University of Tennessee at Chattanooga, in Bretske Hall 203. Office hours are Monday 11am–1pm or by appointment (christina-vogel@utc.edu)
---
Image: Hanes, 2019, acrylic on paper, 14 ¾ x 12 ½ inches